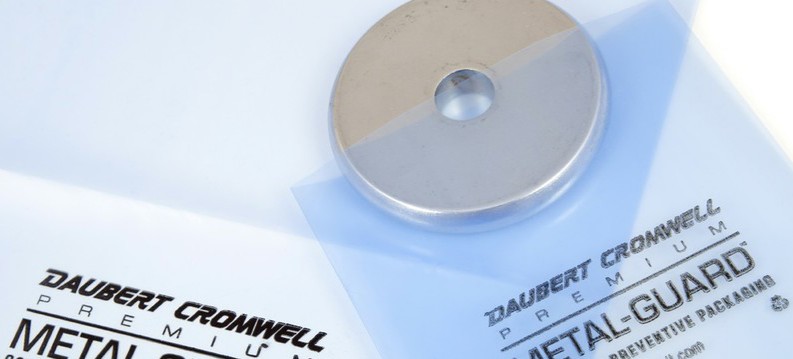 Product Description
Description
The benefits focus around a multi point Volatile Corrosion Inhibitor that is blended into the material. Perfect for use with most metals and alloys these
VCI
bags perform very well in the supply chain packaging metal parts that are being transported or stored.
They are available in various different sizes from stock for your convenience and are economical enough to be used for high volume packaging projects as well low volume that requires corrosion protection of this kind.
How Do VCI Bags work?
The Corrosion Inhibitor contains sensitive molecules which cling to the products interior Polymer based surface.
These evaporate when the bag is sealed, this creates a protective coating over the contents. It's invisible to the naked eye and is effective against salt water, sea air, moisture and gas products.
Compatibility
Will protect Mild Steel, Cast Iron, Stainless Steel, Galvanized Steel, Copper, Brass, Bronze, Zinc, Tin and Silver parts.
Approved to MIL-2073 ID, NF H 00-310 – Class 1.
Benefits of VCI Bags
Superior strength flexible film
Environmentally friendly
Extended Corrosion protection
Free of nitrates
Superior heat seal ability to PE
Handling
Heat seal able with a poly hand sealer for 2 seconds at 180 ºc.
Store in a cool and dry area, kept away from direct sunlight. Don't keep outside in high humidity, or at temperatures beyond 80˚ F.
Product Price
Price not indicated
Technical Details
How to apply VCI Bags
1. When using VCI Packaging firstly ensure that the products in question are clean and dry as well as being free from duct and debris which may prevent the chemical solution from attaching.
2. Wear gloves!!! Be aware that any fingerprints on the product itself may also stop the formula applying in that area.
3. As a general rule an area of 30cm should be kept between the metallic surface and the VCI packaging product itself. Larger packaging designs are available for larger items where rust prevention using this method may be difficult.
4. Based on normal ambient conditions i.e. room temperature the protective layer should form within 24 hours once the goods are in sealed packaging. Other delivery methods may take longer.
5. When judging how long VCI last's it essential to take into consideration any other packaging materials that are being used in conjunction. Is there another Packaging layer? Is Desiccant being used? What will the temperature be in the warehouse or storage facility? What sort of handling will it receive in by the freight forwarder or Haulage Company?
6. It's worth mentioning that VCI products can be opened briefly in order to check the contents as the protective barrier layer will regenerate somewhat.
7. VCI protection products are ready to go out of the box. Make sure they are well sealed and are stored in a cool, dry place with not exposure to direct sunlight.
8. In order to prevent an unwanted chemical reaction do not use in conjunction with another VCI compound.
Technical Data
100% formulated Polyethylene Film with all stage VCI Corrosion Inhibitor formula.