Triple oil cleanser (Cleansing Oil)
- Product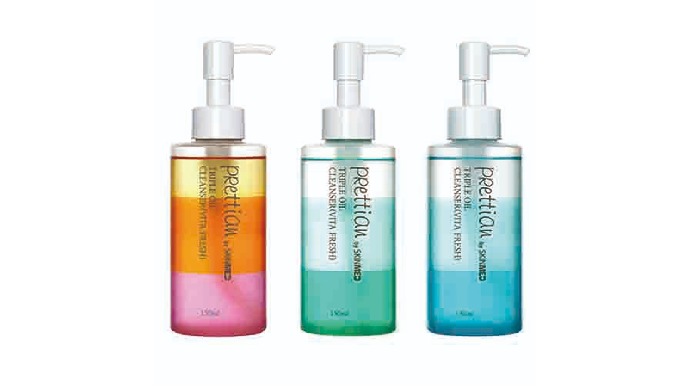 3 in1 Triple Oil cleanser
Triple oil cleanser, which can cleanse three times, is a smart cleanser that contains oil essence cleanser ingredients that can be checked through the oil ducts at the same time, so it removes make-up and simultaneously cleanses the wastes in the pores while simultaneously moisturizing and exfoliatin
Product Description
3 in1 Triple Oil cleanser
Triple oil cleanser, which can cleanse three times, is a smart cleanser that contains oil essence cleanser ingredients that can be checked through the oil ducts at the same time, so it removes make-up and simultaneously cleanses the wastes in the pores while simultaneously moisturizing and exfoliating the skin.
Derma Test Completed
Sebum clean, Pore tightening improvement, smoothness & glossy improvement transparency improvement, brightening improvement
Powerful Cleansing
Absorptive miniaturization
Keep moisture without direness
DEEP Cleansing by smart melting oil
Non-sticky & clean feeling
Specifications
Cleansing and moisturizing thought "good ingredients" Cleansing Oil
Fiji (blackhead) + makeup + wastes with one cleansing solution
The vegetable oil component forms the oil film of the skin, minimizing the water loss in the skin
Soft feeling + Easy to use + Clean cleansing effect
Oil layer + elastic layer + water layer can use different ingredients and functions with oil + ampoule + cleansing function and moisturizing + elasticity + cleansing ability at once
Essence type can also be produced
Light and Moisture Cleansing Oil, Water Soluble Formula with 3 Layers to Remove Complexion Makeup Gently
3 Different Colors and Functions, Triple Care with All in One Cleanser
3 Layers Remover Helps to Moisturize and Protect Skin with Rich of Ampoule and Witch Hazel Water
Layer 1 Oil Cares Pore, Layer 2 Ampoule Moisturizes Skin, Layer 3 Witch Hazel Water Protects skin during Wash Off for smoothing and moist skin.
Cleansing+Mositure+ Pore Care All in One skincare
- 3 colors, 3 Different ingredients, 3 different functions to cleanse, moisturize, and pore care at once.
- in one solution that solves cleansing oil and cleansing water all at once ~ oil + essence + cleansing
- Moisturizing power that does not pull even after cleansing / until a fresh finish without stickiness ~
- Strong cleaning power with low irritation (cleans up residue residues and color makeup at once)
How to Use
1. Hand and face must be dry before use.
2. First, shake it well until it turns orange.
3. Pump the cleansing oil onto the dry hand 2 to 3 times.
4. Massage the entire dry face gently for 30 seconds.
5. Massage for 30 seconds with water until the oil is lightly immersed turned into a milk color.
6. Do not use foam cleansing or soap after rinsing with warm water
Product Price
Price not indicated
Characteristics of the Product
Type

Cleansing Oil

Model

Triple oil cleanser

Dimension

150ml

Brand

Prettian

Certification

ISO22716, GMP

Origin

Republic of Korea
Product Category
I want to get more details about the product
Company catalogues - PICOSTECH CO., LTD.