Rust Remover Spray by Corrosion X™
- Product
Altrincham -
United Kingdom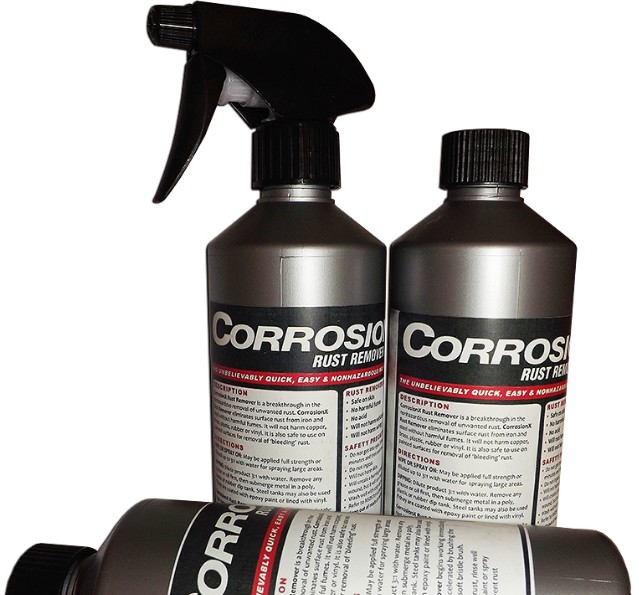 The
Corrosion X
rust removal formula completely eliminates any surface rust build up that can occur on iron and steel surfaces whilst not creating harmful side effects like excessive fumes and damage to the environm
Product Description
The
Corrosion X
rust removal formula completely eliminates any surface rust build up that can occur on iron and steel surfaces whilst not creating harmful side effects like excessive fumes and damage to the environment on disposal.
Despite this impressive performance on rust itself this anti corrosion liquid remains harmless. Inert towards other desired material like copper, brass, plastic, vinyl and rubber. You can even apply this solution on painted surfaces for the removal of problematic 'bleeding rust'.
This quick and easy formula allows you to either work using a topical application with a sponge. Or a cloth to create a rust removal bath ideal for stubborn or established corrosion that may have spread and/or aged.
Warning – This product is intended for use by appropriately trained professionals and not intended for use on non – ferrous metals.
Usage of Corrosion X™ Rust Removal Liquid
• Typical applications for this product include removing rust from cars and bikes as well as HGV's and boats.
• You can use this for removing rust from industrial equipment as well any tools.
• General metal part restoration.
Benefits
• No harmful hazardous emissions.
• Does not contain solvents of any kind.
• Does not contain acidic components of any kind.
• Harmless to skin and whoever is handling it.
• Non – flammable, no VOC elements.
• Does not react with vehicle paint.
• Safe to use on wiring.
Compatibility
Please take note that once the rust has been removed from your instruments It is very important to treat the metal surface with a protective coating solution like
Corrosion X
™ or
Xtreme Clean
™. This will prevent the surface from re rusting. Neutralize and rinse the cleansed metal surface first for best results.
Product Price
Price not indicated
I want to get more details about the product