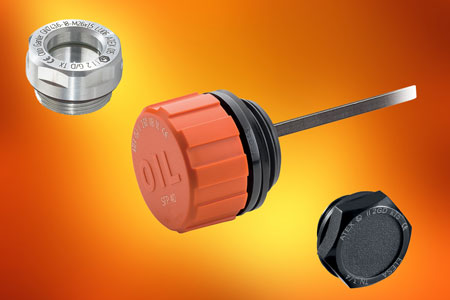 ATEX regulations are related to requirements for dealing with potential explosive atmospheres and have led Elesa to introduce a range of appropriate hydraulic components for use in systems complying with these regulations. This is expected to include many pumps, anti-spark installations, oil and gas, water and sewage and petrochemical plants, as we
Product Description
ATEX regulations are related to requirements for dealing with potential explosive atmospheres and have led Elesa to introduce a range of appropriate hydraulic components for use in systems complying with these regulations. This is expected to include many pumps, anti-spark installations, oil and gas, water and sewage and petrochemical plants, as well as mines and flour mills.

Product Price
Price not indicated
Technical Details
In particular, the range includes
GN 743.6 oil level indicators
,
SFP+a-EX breather caps
and
TN-EX equipment plugs
. This new
ATEX range
of liquid level sight gauges, breather caps, level indicators and plugs are laser engraved and provided with a full instruction/safety leaflet to enable users to correctly incorporate them in systems complying with Health and Safety Requirements according to 94/9/EC ATEX European Directive (explosive atmospheres) for equipment in Group II, category 2GD.
The GN 743.6 aluminium oil level indicators feature ESG safety glass with FKM Viton® sealing ring. SFP+a-EX breather caps incorporate a splash guard and flat dipstick, while TN-EX sealing plugs are in glass reinforced technopolymer with NBR synthetic sealing rings.