HAND CLEANSING TOEWELETTE (Hand Sanitizing Wipe)
- Product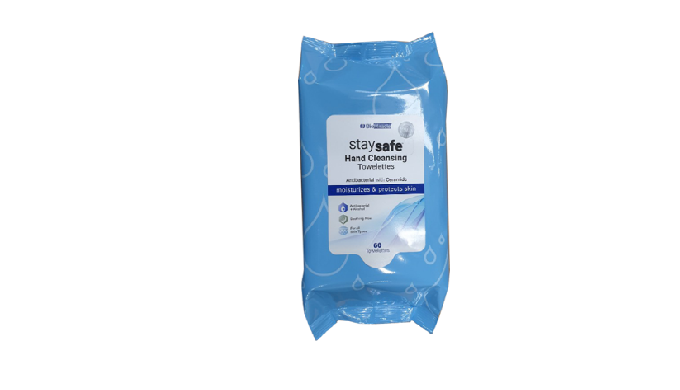 60pcs Hand cleansing towelettes 53g Rayon +Poly/ Resalable/Kill Germs
Hand Sanitizing Wipe
Alcohol 62%
Easy to carry
Wet tissues type
Contain Skin Moisturizers
HAND CLEANSING TOEWELETTE
Clean and hygienic without water. Contains
Product Description
60pcs Hand cleansing towelettes 53g Rayon +Poly/ Resalable/Kill Germs
Hand Sanitizing Wipe
Alcohol 62%
Easy to carry
Wet tissues type
Contain Skin Moisturizers
HAND CLEANSING TOEWELETTE
Clean and hygienic without water. Contains 70% alcohol to clean hands quickly and effectively anytime, anywhere!
Easily wipe your hand clean anytime anywhere.
Enough use quantity 90ct and ideal for on-the-go
Contains alcohol, effectively protects your hands from external contamination.
Leaves on residue and stickiness behind after use.
While ingredients such as Centella Asiatica and Cucumber extract soothe and refreshes hands, Ceramide keeps them moisturized and hydrated.
Characteristics of the Product
Type

Hand Sanitizing Towelettes

Model

staysafe

Dimension

90PCS WIPES

Brand

BioMiracle

Origin

Made in Korea
I want to get more details about the product
Company catalogues - PICOSTECH CO., LTD.