Digital Marketing Solutions
- Product
Forest Row -
United Kingdom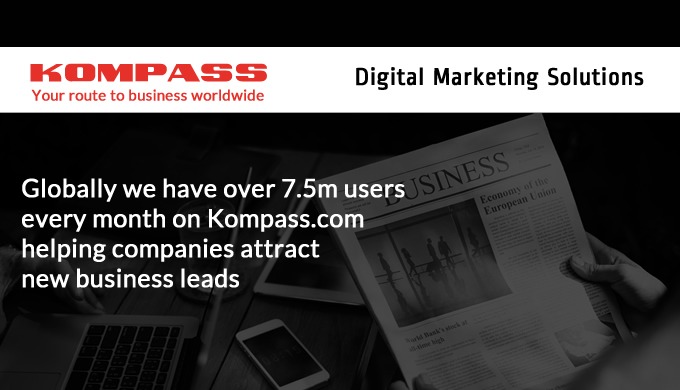 Kompass Digital Marketing Solutions will help your company attract new business leads. Using Kompass.com, our global online digital directory which attracts more than 7.5m visitors every month, we offer a range of services to help improve your SEO, increase relevant customer traffic and build global awareness of y
Product Description
Kompass Digital Marketing Solutions will help your company attract new business leads. Using Kompass.com, our global online digital directory which attracts more than 7.5m visitors every month, we offer a range of services to help improve your SEO, increase relevant customer traffic and build global awareness of your company profile and brand.

Register on kompass.com – Add your company profile to Kompass using our FREE profile builder & attract visitors instantly. With 55k uniquely detailed product & service classifications available, accurate profiling is easy.

Manage your company profile – 24/7 access to your online profile so you can edit & update your profile details any time. Make sure you take the opportunity to include detailed company & contact information.

Boost your company profile – Engage your target audience by showcasing your products & services with our optimised Booster package. Premium positioning, videos, keywords & 26 language translations.

Drive relevant enquiries – Attract new business leads with a fully managed PPC ad campaign offering 1000 guaranteed visits to your profile & driving relevant enquiries to your company profile.
Product Price
Price not indicated
Technical Details
Key Digital Marketing benefits

- Engage your target audience
- Attract new business leads
- Improve your SEO and increase customer traffic
- Find new buyers looking to make a purchasing decision
- Maximise visibility with a responsive company profile design
- Create & build international awareness of your brand

Contact us to find out more about our Digital Marketing Solutions or call us on 0800 0185 882
I want to get more details about the product
Company catalogues - Kompass UK Ltd