Cortec® VPCI 111 | VPCI® Emitter Capsules | Corrosion Protection For Metals | Valdamark of Valdamark Ltd
Product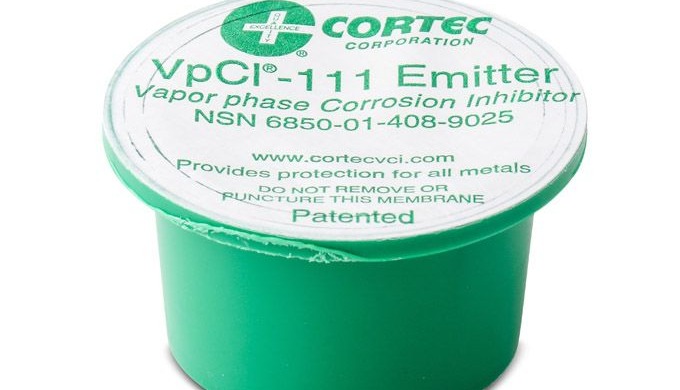 Cortec VPCI 111 emitter capsules are unique, patented devices designed to provide corrosion protection for metal parts & components that are enclosed in non-ventilated electrical boxes, control cabinets and tool boxes up to 11 cubic feet/312 litre's.

These VCI emitters feature Cortec's proprietary VPCI® (
Product Description
Cortec VPCI 111 emitter capsules are unique, patented devices designed to provide corrosion protection for metal parts & components that are enclosed in non-ventilated electrical boxes, control cabinets and tool boxes up to 11 cubic feet/312 litre's.
These VCI emitters feature Cortec's proprietary VPCI® (
vapour phase corrosion inhibitor
) technology. This sophisticated VPCI formula bonds to the internal metal surfaces around it forming a molecular layer to protect critical, complicated or expensive equipment from corrosion damage.
Benefits of Cortec VPCI 111 emitters
Cost effective & economical to use
Keeps working and continuously protecting for up to 24 months either during operation or when inactive.
Particularly effective in polluted & humid environments.
Does not interfere with equipment's mechanical or electrical performance in any way.
Offers multi-metal, both ferrous and non-ferrous metals rust protection.
Easy and simple installation.
Non-toxic and safe to whoever is handling the device.
Compact and saves space.
Nitrates, halogens & phosphates free.
Does not require spraying, wiping or dipping.
Impressive environmental credentials at both a national and international level. VOC (volatile organic compound) values in line with the strict levels/regulations prescribed in the Southern California Clean Air Act.
Self-adhesive backing and date label.
FDA approved for the corrosion protection of electronic equipment's within food processing facilities.
Approved for use by both NATO and the United States military.
Applications for Cortec VPCI 111 emitters
Electronics equipment either operational, packaged or being stored
Marine navigation & communication devices
Aviation electronic controls
Electronic motors
Switching equipment
Fuse and power supply housings
Medical devices and equipment
Electrical wire ways & terminals
Scientific devices and measuring equipment
Telecoms equipment and remote control electrical devices
Product Price
Price not indicated
Characteristics of the Product
Type

VPCI

Model

111

Dimension

Various

Brand

Cortec