AudionVac VMS 253 | Double Vacuum Chamber
- Product
Altrincham -
United Kingdom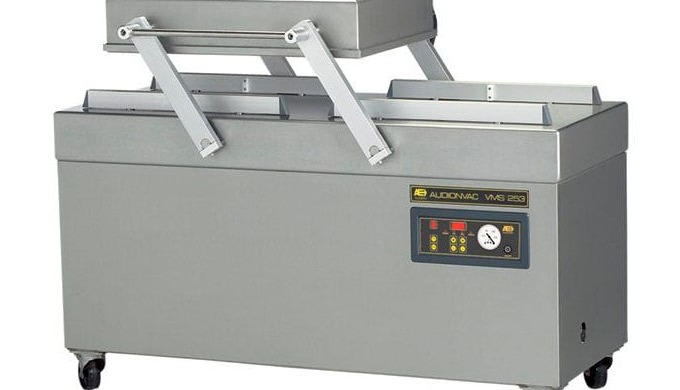 The Audionvac VMS 253 is a large double chamber vacuum machine.
This model features a stainless steel chamber with a heavy duty steel lid.
What is a Vacuum Chamber?
A
vacuum chamber
is a machine that removes air from a bag using a vacuu...
Product Description
The Audionvac VMS 253 is a large double chamber vacuum machine.
This model features a stainless steel chamber with a heavy duty steel lid.
What is a Vacuum Chamber?
A
vacuum chamber
is a machine that removes air from a bag using a vacuum pump. Following the removal of air the bag is then sealed.
There is a wide variety of models starting with small table top units through to extra large double chamber designs like this one.
Each VMS chamber is manufactured from stainless steel, whilst VM machines are constructed from aluminium.
In every unit the cabinet itself is made from stainless steel.
What are Vacuum Chambers used for ?
There are many application for Vacuum Chambers. The primary being food.In addition to the 'conserving' effect created by a vacuum it is possible to add in inert gasses or a mixture of gasses. This results in a modified atmosphere that contains and preserves the food, thus avoiding damaging effects.
Many in the food industry choose to use lower vacuums or modified atmospheres. Here the pressure of a high vacuum is not exerted. Liquid products may loose their form under a high vacuum. Multiple products may stick together under high vacuum. Crush able products can be crushed. With lower vacuum/ modified atmosphere this can be avoided.
There a three main gasses used to create this atmosphere.
Carbon Dioxide
– Microbiological activity is the culprit for producing mold on food products. C02 slows this down as well as oxidation.
Nitrogen –
This is an inert gas which does not react with other substances at all. Usually this is used as a replacement for air in the atmosphere.
Oxygen –
Oxygen should not exceed 25% in a vacuum chamber due to the risk of combustion. It is needed though to preserve breathable products like meat which needs it to maintain colour as well as to slow the growth of bacteria.
Use in Non-Food
Corrosion Prevention –
This is the most common in order to prevent the decay of wood through corrosion or other damaging processes.
Vacuum packing protects against the usual biological and chemical processes. As well products are kept in a clean enclosure away from moisture.
Its also well known that by vacuum packaging larger items you can save significant space as opposed to using traditional methods.
Items that can benefit from space saving include –
Printed Circuit Boards
Machine Parts
Medical tools & devices
Masks and Personal Safety Equipment
This is just a small sample of applications. Vacuum chambers are constantly discovering new uses for themselves.
Why choose the Audionvac VMS 253 ?
Each Audionvac model comes equipped with a digital control panel. Ergonomically designed with the user in mind it is user friendly and easy to operate at different settings.
As well this model features a 10 program memory function allowing you to store your preferred settings.
Filler plates comes as standard allowing you to adjust the working height inside the vacuum chamber. This can be adjusted from product to product allowing you to work easily and obtain optimal seals.
Audionvac VMS 253 functions & options
This Audionvac VMS 253 model comes with timer control, seal and soft air features however for those looking for modifications we provide a complete list of options.
Gas Flushing
– The addition of gas to a package is a way to extend product shelf life. During normal operation the product and chamber space are vacuumed. Finally the bag would usually be sealed, however with gas flushing the bag or pouch is injected with a pre-determined volume of gas. This process keeps residual oxygen percentages low. Once injected with the gas the product is no longer under the pressure from the vacuum.
Sealing Bars
– Additional sealing bar configurations can be applied to nearly all of the larger Audionvac vacuum chambers. Contact us for more information.
Voltages, Phase and Frequency
– All of the Audionvac models can be supplied with varying voltages as well as frequencies to accommodate client requirements.
Soft Air
– The soft air function is ideal for use fragile products, like fish and sharp edged items. It enables packing without damage from the vacuum pressure. The air enters the vacuum chamber very gently and so allows the packaging time to form around the product without damage. The packaging itself also looks more professional when using this feature.
Sensor
– The sensor feature is ideal when exact vacuum or gas level readings need to be obtained. Standard models use a timer cycle to determine when certain vacuum or gas levels or reached. This perfectly suitable for most applications, however for those dealing with products of varying density and/or volume a more accurate reading may be required to maintain consistency.
Multi Cycles
– When vacuuming or gassing it may be necessary to use repeated sequences. The multi cycles option allows you to do this with up to 8 processes in one cycle. Most models can be equipped with this option however it is not possible to combine both sensor and multi cycle features.
Code Seal
– With this option text can be imprinted onto the seal area with a message of your choice. Usually used for safety or security a code or message will remain intact until the package is opened. This option needs to be done in conjunction with the 8mm seal modification.
In addition to the above we have helped many clients achieve their goals with custom options tailored to very specific requirements.
Basic modifications are available to purchase online however to discuss more complicated project requirements please contact us first.
Product Price
Price not indicated
Technical Details
ProductVMS 253
Seal length610 mm
Seal width3,5 mm double seal
Sealing Bar Position
Type of machineVacuum chamber
ModelFloor Mounted Double Chamber
CoveringStainless Steel
KnifeOption
Pedal operatedNo
Film TypePA/PE, Vacuum Bags
Film Thickness2 x 150 micron
Package TypeBag
Brand & ApplicationBackery, Cheese, Coffee & Tea, Fruit & Vegetables, Industrial Parts, Meat & Poultry, Office Supplies, Packaging & Logistics, Pet Food, Shop, Warehouse, Food Industry
Product TypeGranulate, Powder, Solid
Seal length: 2 x 610 mm
Seal width: 2 x 3,5 mm
Effective chamber (LxWxH): (2x) 610x400x240
Pump: 63 m3/h
Electrical: 400V-3P-50 Hz
Control panel: Digital, 10 program, Soft air
Product Category
I want to get more details about the product