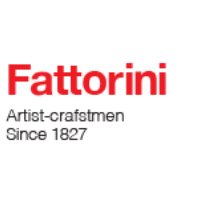 Thomas Fattorini - Name Badges, London
Thomas Fattorini - Name Badges
Thomas Fattorini - Name Badges
Contact - Thomas Fattorini - Name Badges, London
Mermaid House, 2 Puddle Dock, London
London Greater London EC4V 3DS
United Kingdom
Latest products added Thomas Fattorini - Name Badges, London
Additional information
Legal information - Thomas Fattorini - Name Badges, London
| | |
| --- | --- |
| Nature | Secondary establishment : Sales Office |
| Year established | 1950 |
| Legal form | Private Limited |
| Activity (SIC07) | Manufacture of other wearing apparel and accessories (14190) |
| Registration no | 00153351 |
| VAT no | GB 343 4128 78 |
| No employees | 3 Employees |
Presentation - Thomas Fattorini - Name Badges, London
For Namebadges, Medals & Medallions, Insignia & Regalia, Pin badges and corporate jewellery (Cufflinks etc) - made to your specification to ISO9001.
The London Sales office of Thomas Fattorini Ltd established Artist Craftsmen since 1827. Specialising in the design and manufacture of the following:
PLASTIC NAME BADGES
.
We manufacture bespoke corporate name badges which are designed, moulded, printed and finished to your precise requirementsWe offer name badges that you can name yourself and re-use, or we can permanently name for you. These are also known as window badges.We also offer ex-stock plastic name badges and acetate conference badges also known as Nameholders. These are available in various sizes.
CIVIC INSIGNIA
&
NATIONAL AWARDS
National awards, decorations and honours.
Civic gifts and silverware, maces, ceremonial scrolls and parchments, silver caskets, maces, freedom keys. Objets d'art.
CORPORATE JEWELLERY & GIFTS
Corporate Jewellery, such as cufflinks, long service awards, tie pins, tie slides, brooches. Also in precious metals and precious stones. Charity Pin and button badges, vitreous enamel badges.
Uniform Accessories such as earrings, buttons, cufflinks, belt buckles
TROPHIES
To include sports trophies and Sports belts. Also glass & acrylic awards, metal plaques, wooden shields. These are made to order.
CEREMONIAL SWORDS
Ceremonial swords standard British patterns or we can make a sword specifically for you.
MEDALS
These can be in traditional such as Portrait and Art commemorative medals or made to hang off a ribbon, such as military or campaign medals
We can export to Europe, Asia, Middle East, Africa, Australasia and North America and Canada
Key phrases:
Air Crew Wing Badges
Key phrases:
Belt Buckles
Key phrases:
Brooches
Key phrases:
Cap Badges
Key phrases:
Coins and Tokens
Key phrases:
Commemorative Coins
Key phrases:
Commemorative Medals
Key phrases:
Corporate Cufflinks
Key phrases:
Corporate Jewellery
Key phrases:
Corporate Merchandise
Key phrases:
Cufflinks
Key phrases:
Key Chains
Key phrases:
Key Tags & Fobs
Key phrases:
Leather ID Wallets with Badges
Key phrases:
Long Service Awards
Key phrases:
Medallions
Key phrases:
Medallists
Key phrases:
Medals on Ribbons
Key phrases:
Military Medals
Key phrases:
Portrait
Key phrases:
Qualification Badges
Key phrases:
Sports Medals
Key phrases:
Tie Slides and Tie Pins
Key phrases:
Trolley Tags & Fobs
Key phrases:
Uniform Accessories
Key phrases:
Minted Coins
Key phrases:
Corporate Gifts
General Information - Thomas Fattorini - Name Badges, London
Export area
Central Asia, Middle East, Africa, Central/East Europe, West. Europe, North America, Central America, South America
Mr Tim Fattorini
Director
Participation - Thomas Fattorini - Name Badges, London
Location - Thomas Fattorini - Name Badges, London
Key figures - Thomas Fattorini - Name Badges, London
Turnover
Operating income
Activities - Thomas Fattorini - Name Badges, London
Producer
Distributor
Service providers
Main activities within the Kompass classification
Other classifications (for some countries)
SIC (GB 2007) : Manufacture of other wearing apparel and accessories (14190)
NACE Rev.2 (EU 2008) : Manufacture of other wearing apparel and accessories (1419)
ISIC 4 (WORLD) : Manufacture of wearing apparel, except fur apparel (1410)
Secondary activities within the Kompass classification