Other
Elesa handwheels "go anywhere – Jack"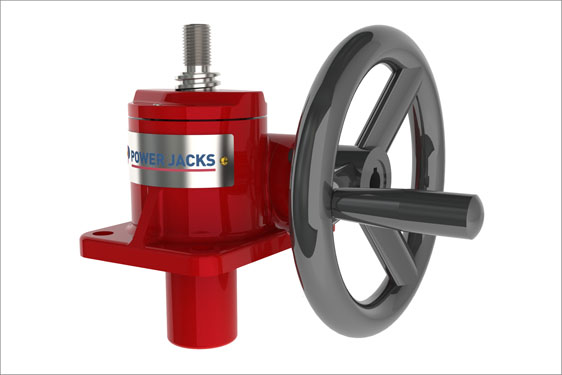 The go anywhere performance of Elesa standard components is brilliantly exemplified by their customer Power Jacks Ltd who provide electro-mechanical linear motion, lifting and positioning systems.
Explained Marketing Director Bruce Hamper "We use Elesa high strength
metal and composite handles in 2 and 3 spoked forms
– some go on purely manual screw jacks, others are used as a manual back-up on screw jacks, actuators or gearboxes. For manual operation we often add an extra gearbox at the input shaft to reduce the input torque and effort."
Power Jacks products – like their E-Series Screw Jacks - feature precision gear sets, the option of machine screw / ball screw / roller screw drives and are available as complete stainless steel constructions. The products can be supplied in standard and fully complete customised designs to meet all application requirements including those in industries like nuclear and defence, oil fields, offshore/onshore, aircraft servicing, automotive vehicle production and steel mills.
Feedback from engineers in-house and in the field confirms that the relationship with Elesa provides extremely valuable support particularly in terms of their competitiveness and emergency supply service across a wide range of quality products. In the design area Power Jacks engineers especially appreciate Elesa's technical support online with easy access to CAD 3D STEP models and their direct relationship with the team at Elesa UK.
Hamper confirmed "Power Jacks have to meet the highest standards of quality, performance, reliability and usability in a range of environments. Elesa handwheels meet those criteria in a supply package that supports our business across the piece and especially in terms of stock/availability and pricing."