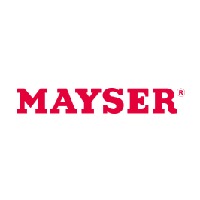 Mayser GmbH & Co. KG
Sicherheitstechnik, Schaumstofftechnik & Formteile
Innovative by tradition.
Contact - Mayser GmbH & Co. KG
Bismarckstraße 2
88161 Lindenberg
Germany
Send a message - Mayser GmbH & Co. KG
Legal information - Mayser GmbH & Co. KG
| | |
| --- | --- |
| Nature | Head Office |
| Year established | 1800 |
| Legal form | Gesellschaft mit beschränkter Haftung & Compagnie Kommanditgesellschaft |
| Describe your Company and attract Business opportunities | |
| Handelsregister | Kempten HRA 7939 |
| VAT no | DE130002908 |
| No employees | 500-999 Employees |
| Kompass ID? | DE690377 |
| Kompass member for | + 6 years |
| Membership | Booster International |
Presentation - Mayser GmbH & Co. KG
Manufacturer of technical foam materials (semi-finished parts, cellular polyurethane elastomers) and trim components for vehicle interiors.

Applications for our products: Carriers for adhesive foam tapes (pressure sensitive tapes), dust seals, filter foam as liquid reservoirs (for stamping dyes, ink, oil) and as air filters (particle separation), anti-slip material, sound damping material (vehicle and machine construction), roof, beam, and side panelling (commercial automotives, agricultural, construction, and forestry machinery, small series of vehicles), modified moulding foam (vehicles)
News - Mayser GmbH & Co. KG
Previous news
Participate in an event

Mayser at InnoTrans 2020 in Berlin

Date:

End:

Location: Berlin


Mayser makes public transport safer

InnoTrans, which is scheduled für September 2020, has been postponed due to the prohibition on major events. Visiting experts will now have the opportunity from 27 to 30 April 2021 to learn about the latest products and developments from Mayser and more than 3,000 other exhibitors.

At InnoTrans Mayser will present safety systems for the entry and exit areas of public transport systems. The focus is on the capacitive system, sensor profiles, safety steps as surface sensors, and reliable drag-along detection. The capacitive system, also known as the non-touch detection system, detects people and conductive objects in the direct vicinity of the sensor. Mayser will also present the Mayser brand RailFR®, which comprises specially developed fireproof sensors and cables. For more information about our systems and their areas of application, visit us at InnoTrans or contact us. We will be glad to assist you!

Mayser at InnoTrans 2021
27 to 30 April 2021, Exhibition Centre Berlin

Participate in an event

Mayser première at FoamExpo in Stuttgart

Date:

End:

Location: Stuttgart



Mayser to present custom foam solutions

From 10 to 12 November, 2020 Mayser will participate for the first time in FoamExpo, the most important fair for the technical foam industry. Manufacturers from the entire supply chain for the foam industry are represented at the fair. They will present their newest foam-related product applications and services.

Mayser, which has been established on the market for four decades as an international development and production partner, will present its foam technology products in Stuttgart. What makes Mayser special in this area is the focus on developing products that can be adapted to individual customer requirements. The result is a diverse product portfolio – and an interesting trade fair exhibit that is worth visiting.

Would you like more information about foam, or do you require a personal consultation? Visit us at the fair or contact us: we will be glad to assist you.

Mayser at FoamExpo 2020
10 – 12 November 2020
Exhibition Centre Stuttgart, Hall 10, Booth 923


Participate in an event

Mayser presents new USi generation in Chicago

Date:

End:

Location: McCormick Place

Return to Fabtech USA 2019

Fabtech, the international metal manufacturing event, is a meeting place for world-class suppliers of the industry. This year's event will be held from 11 – 14 November 2019 in Chicago. Mayser will attend for the second time, in order to expand its network in the USA and to acquire new customers.

Following the success of Fabtech 2018 in Atlanta, Mayser will again be among the 1900 exhibitors of North America's largest event for the metal manufacturing industry. Last year, the visiting experts were especially interested in the ultrasonic industrial sensor USi. Mayser will arrive in Chicago with the next generation of the USi, with improved software for even more reliable suppression of interference, in order to convince additional potential customers. Ultrasonic sensors from Mayser are available in different versions that are used both for non-touch detection in the protection of people and objects, as well as for automated distance measurement.

The USA is also an interesting market for Mayser's highly efficient sensor profiles, safety edges, safety mats and safety bumpers, which will likewise be presented at Fabtech. As high-end European safety technology products they provide reliable protection against human injury and property damage – which makes them interesting for numerous metal manufacturing companies on the American market.

Since 2012 Mayser USA has been producing and distributing safety and foam technology products that incorporate European expertise acquired over a period of decades. After the success of becoming established in the automotive industry, Mayser USA is now increasingly expanding into the non-automotive sector.

Visit us at Fabtech 2019 in Chicago.

Participate in an event

Busworld: Mayser makes safety visible

Sensors guarantee obstacle detection at doors

Lindenberg/Ulm, 16/10/2019
From 18–23 October in Brussels, at the 25th edition of Busworld, the most well-known trade fair for the bus and coach industry, Mayser will present ultramodern obstacle detection sensors at Booth 131 A in Hall 1. The focus of this year's exhibit will be on Mayser products that significantly increase the safety of bus and coach travel. International visitors to the Mayser booth can learn all about reliable drag-along detection, safety steps as surface sensors, the non-touch detection system, and sensor profiles.

First transparent demonstration of drag-along detection
When entering and exiting buses and trains there is a risk that bags or items of clothing can get caught in doors as they close, causing people to be dragged along. Drag-along detection systems from Mayser reliably prevent this danger. The highlight of this year's trade fair is an exhibit that shows in a live demonstration how Mayser safety edges work. It consists of a profile with LED elements in a transparent window, combined with a pressure-sensitive, non-touch safety system. The purpose of the exhibit is to demonstrate to visitors how the vertical position of caught objects is determined by the safety edge. The sensitive sensors detect even very small objects such as backpack straps, in order to reliably protect passengers.

Protection for 30 million passengers daily
According to the Federal Ministry of Transport and Digital Infrastructure, more than 30 million passengers use public transport in Germany every day. The fast cycle times of buses make the entry and exit area a central danger zone. Also, in the case of articulated buses or large numbers of passengers it is not always possible for drivers to have a full view of door areas. All the more reason for preventing passengers from being caught or dragged along. As a result of more than 30 years of experience with safety systems, Mayser today plays a leading role in safeguarding danger areas in public transport.

Participate in an event

Mayser sensors make travel and commuting safe

Mayser at Busworld in Brussels

At the 25th Busworld in Brussels, the oldest and most well-known trade fair for the bus and coach industry from 18 to 23 October 2019, Mayser will present ultramodern safety technology for local public transport. International industry specialists can look forward to intelligent technologies that are designed for easy integration and reliable protection of passengers.

At Busworld the focus will be on Mayser products that make bus and coach travel much safer for passengers. Especially when entering and exiting there is a risk that bags or items of clothing could get caught in closing doors, causing people to be dragged along. To prevent this, Mayser has developed sensitive sensors that detect objects and prevent automatic doors from closing; this can be achieved with pressure-sensitive (tactile) or non-touch (capacitive) sensors.

Visitors to the Mayser booth can experience on-hand how safety steps perform as surface sensors in the entry and exit area, or how pressure-sensitive and capacitive safety edges detect even the smallest objects and reliably stop the closing motion of a door. The trade fair portfolio will also include smart technologies such as the capacitive switch for pedestrians lights, which is designed for reliable operation in adverse weather conditions also when wearing gloves.

As a result of worldwide increasing requirements for fire protection, RoadFR® is a product that will make a stop at the Mayser booth a must for many visitors. The fire-proof cable is ideal for use in areas with stringent requirements for flame-retardant materials, because it prevents disruption of the electronic systems in motor vehicles in case of fire. Visitors to the Mayser booth can also look forward to a Ventura sliding swing door as an aid for demonstrating how Mayser safety systems work.

Visit Busworld in Brussels and experience how Mayser safety technology can make bus travel safe.

Participate in an event

Mayser scouts for specialists in the region

Ulm/Neu-Ulm Young Talents Day in the ratiopharm arena At Young Talents Day on 12 October 2019 in Neu-Ulm's ratiopharm arena, some 40 exhibitors will meet motivated specialists who are seeking new career challenges. Mayser will attend the event for the fourth time, in order to boost the company's image as an innovative enterprise and an attractive employer in the region.

Young Talents Day is an event that contributes to Mayser's success. The company's booth has always attracted a great deal of interest from visitors. Every year, there have been positive conversations with visitors and a large number of subsequent applications.

Mayser will be present again this year as a potential employer with attractive opportunities. Just a few examples of what future employees can expect: qualified vocational and advanced training, versatile work time models, and diverse team events.

We welcome all visitors to our exhibit at Booth 22.

12 October 2019, ratiopharm arena in Neu-Ulm

Click

here

to read about our last attendance at Young Talents Day

Other

Environmental management: Mayser grows with the requirements

Tenth TÜV certification

Since 2010 the experts from TÜV Süd have visited the Mayser locations in Ulm once per year to audit the company's environmental management system. In May, this audit was completed for the tenth time – and Mayser once again received the ISO 14001 certification. However, both the auditors and those being audited are aware that the process of developing into an environmentally friendly company is never complete. Because the requirements continue to grow year for year.

Mayser can continue to develop and improve with respect to environmental protection only if everyone participates actively. This starts with little things. Some examples: Opening windows briefly to air out a room, not leaving windows open for extended periods, closing windows, doors and gates before leaving work evenings and weekends, or turning off lights not needed if there is sufficient daylight. Examples such as these from the current audit are intended to sensitize employees and make them aware of the potentials for daily inattentiveness with respect to the use of resources.

"Every day we experience from our customers that good work pays off", says Thorsten Paech, Director of Quality Management at Mayser. "This quality can be achieved only if we all constantly strive to continue improving. Also with respect to environmental management." The report of the environmental management officer confirms that Mayser is highly committed to achieving the company's goals. Seven of eight environmental goals were achieved in 2018. For example, the machine park was expanded to include three new injection moulding machines that are optimized for energy efficiency, and highly efficient lighting and water heating systems were installed in new offices.

For 2019, Mayser has again set ambitious goals, which require the active participation of all employees. Paper used for printing should be reduced by 10 percent, for example, and ink even by 20 percent.

Maybe you too would be interested in Mayser as an employer?

Here

is a list of open positions.

Other

Mayser gains PSI as new sales partner

Expansion of distribution network in Ireland

This year Mayser gained PSI, which specialises in pneumatics and sensors, as a new sales partner. This cooperation will allow Mayser to further expand the sales network in Ireland and to provide extensive consulting services for the customers located there. Another advantage: We can better assess the local market situation and respond faster to changes. Mayser employee Kim Wiker has already visited PSI, to prepare the team for its new task in an in-depth product training program. The cooperation can therefore begin as planned on 1 July.

The Irish experts

PSI founder Michael Murphy has 20 years of experience in the industry. In 2013 he founded his own company, PSI, with headquarters in Piltown, in southern Ireland. PSI represents leading brands in the areas of pneumatics, sensors, automated processes, and vacuum technologies. All of these sectors include non-intuitive products, such as the USi®, in their product portfolio. In such cases, in-person consulting and the ability to demonstrate the product to the customer can be very important for successful marketing. In addition to the company's broad expertise, close relations to other firms in the sector make PSI the ideal partner for Mayser.

For more information about PSI please visit: www.psireland.ie

Participate in an event

Mayser provides career orientation for school students

vocatium trade fair in Neu-Ulm

At the vocatium trade fair for vocational training and studies on 11 and 12 July in Neu-Ulm's ratiopharm arena, students from the region can learn about vocational occupations and establish contacts with potential employers. For the second time, young people who are interested in vocational occupations can visit the Mayser booth, where the company will present existing and new training opportunities.

Students can make an appointment in advance to discuss their career preferences individually with the advisers at the booth. This year Mayser's focus is on commercial vocational training with information about careers as process mechanics for plastic and rubber technology, industrial mechanics, and warehouse logistics specialists. The trade fair team will also present two new training opportunities: starting in 2019, one can also learn the occupations of machine and system operator, and mechatronician.

"Career and training fairs are an interesting platform for us in general", explains Sandra Handerer of Mayser. "In times of shortage of qualified personnel we place a strong focus on the well-founded training of young talents, who are hired afterwards. The vocatium trade fair offers an outstanding opportunity for both us and students to get a first impression."

Schedule an appointment
If you are interested in learning about training opportunities at Mayser or would like an appointment to discuss your dream career, you can register at the Mayser Webpage. You will be notified of the time and date of your appointment, which is binding, 14 days prior to the trade fair.

Our employees look forward to welcoming numerous visitors at our booth.
11 – 12/07/2019, ratiopharm arena in Neu-Ulm

Participate in an event

SMART Automation Austria: Mayser partner Urmet Dialog supports Mayser at trade fair in Linz

Date:

End:

Location: Design Center Linz

SMART Automation Austria in Linz is Austria's only trade fair for industrial automation. That makes it an important platform for Mayser to reach existing and potential customers in the alpine republic. At this year's SMART Automation Austria from 14-16 May, 2019 our sales partner Urmet Dialog will present safety products from Mayser, with the focus on ultrasonic sensors and sensor profiles.

Last year, Mayser continued the development of its ultrasonic sensors to meet the growing requirements for the protection of people and property in the use of automated guided vehicles (AGVs) – including a new special software routine: If two independent AGVs encounter each other, the software eliminates any possibility of mutual interference

.

Urmet Dialog at SMART Automation Austria: Hall: DC Booth: 804

More information about the trade fair: https://www.smart-linz.at/ and safety solutions from Mayser: https://www.mayser.com/de/branchen/industrie-automation-logistik/sicherheitstechnik

Press release

Ultrasonic sensors make smart transport systems safe

Mayser, the specialist for safety technology, equips AGILOX automated guided vehicles with cutting-edge ultrasonic sensor technology to create a unique selling proposition with regard to safety and efficiency.

A new generation of AGVs from the Austrian company AGILOX Services GmbH is revolutionising logistics: The Intelligent Guided Vehicle (IGV) AGILOX is an agile, autonomous plug & play transport system that has achieved international success with new concepts for spatial navigation and swarm intelligence. Such high-tech transport systems create tremendous advantages in logistics, because they save space and reduce personnel costs. Reliable prevention of collisions between people and objects, however, requires cutting-edge, certified sensor technologies.

Little space for advanced technology

An especially challenging task in this development was to protect the blind zone of the IGV AGILOX from the fork arms in the phase immediately prior to entering the pallet. Since the installation space for sensors in this area is very small, It was difficult to find suitable sensors. In the end, the Austrian sales partner Urmet Dialog pointed AGILOX Services toward the USi® ultrasonic sensors from Mayser GmbH & Co. KG. Domiciled in Ulm and Lindenberg, the company manufactures products and system solutions for safety technology, foam technology and moulded components at six locations in Europe, Asia and the USA.

Complex echo process ensures reliable object detection

Mayser developed its USi® ultrasonic sensors especially for non-touch monitoring of three-dimensional spaces. A complex process consisting of an echo propagation time measurement and an echo amplitude measurement allows both distance measurements and non-touch object detection by the sensor. The USi® detects objects made of diverse materials and is insensitive to contamination, extraneous sound, air flows and moisture. It also features very compact, freely positionable transducers that can be positioned apart from the electronic system for increased versatility of installation – even in very tight spaces. A special new software routine provides for added safety by suppressing mutual interference if two independent transport systems meet each other.

High safety standards

Since the areas of application for the IGV AGILOX also include work areas where people move about, the USi® Safety with a special dual channel system for personnel safety was added during the course of the cooperation. AGILOX Services therefore received a technology that was even more innovative and more complex than the original requirement. Equipped with USi® and USi® Safety at the end of the integration process, the Intelligent Guided Vehicle from AGILOX Services can now operate without interruptions, which allows maximum efficiency. In addition, the IGV AGILOX is the only automated transport system on the market that is fully protected according to ISO 13849-1 Category 3 PL d – a unique selling proposition with long-term benefits for AGILOX Services.

"The use of USi® Safety in very small installation spaces has allowed us to make the AGILOX altogether more safe, while keeping everything very smart."
Josef Baumann-Rott, Co-founder AGILOX Services GmbH
More news
General Information - Mayser GmbH & Co. KG
Banks
HypoVereinsbank Lindau
Sparkasse Memmingen
Brands - Mayser GmbH & Co. KG
Previous brands
Mayser® (Producer / Exporter)

INDUCON® (Producer)

Komprimierte PUR-Spezialschaumstoffe für technische Anwendungen

INDUPHON® (Producer)

Akustikschaum als Schalldämpfmaterial aus modifiziertem PUR-Schaumstoff.

INDUMONT (Producer)

Selbsttragende, formstabile Bauteile für den Fahrzeuginnenraum.

INDUSKIN (Producer)

PUR-Spezialschaumstoffe für besondere Anforderungen mit besonderen Ansprüche (z. B. Optik, Haptik oder Beständigkeit).

MAYSER BLUEFOAM® (Producer)

vergilbungsarmer, UV-beständiger PUR-Schaumstoff.
More brands
Location - Mayser GmbH & Co. KG
Contact people - Mayser GmbH & Co. KG
Herr Walter Scharf
Sales Director/Manager (Vertriebsleitung)
Herr Julius Rummel
CEO - Chief Executive Officer (Geschäftsführung)
Key figures - Mayser GmbH & Co. KG
Turnover
Opening hours - Mayser GmbH & Co. KG
Tuesday
07:30 - 12:00
13:00 - 16:00
Monday
07:30 - 12:00
13:00 - 16:00
Wednesday
07:30 - 12:00
13:00 - 16:00
Thursday
07:30 - 12:00
13:00 - 16:00
Activities - Mayser GmbH & Co. KG
Producer
Distributor
Service provider
Main activities within the Kompass classification
Secondary activities within the Kompass classification