Contact - Kompass UK Ltd
Unit 8 Riverview Business Park, Station Road
Forest Row East Sussex RH18 5FS
United Kingdom
Ask for Info - Kompass UK Ltd
Legal information - Kompass UK Ltd
| | |
| --- | --- |
| Nature | Headquarters |
| Year established | 2011 |
| Legal form | Private Limited |
| Activity (SIC07) | Book publishing (58110) |
| Registration no | 07819067 |
| VAT no | GB 124 5016 53 |
| No employees | 6 Employees |
| Kompass ID? | GB83139894 |
| Kompass member for | + 8 years |
| Membership | Booster |
Presentation - Kompass UK Ltd
Kompass is a leading global provider of a range of B2B Data Solutions that are used for sales, marketing, procurement & research.
Kompass Business Data
helps you find the right customer leads and marketing lists for your business, with data collected from source through dedicated data integrity teams on the ground in 70 countries. Our B2B company data is classified using our uniquely detailed Kompass classification system, which contains more than 56,000 product & service categories.
Access to our data is offered through a subscription to our global online database EasyBusiness, which contains more than 53 million companies and can be searched in 26 languages. We also provide bespoke sales & marketing lists which are built by our Kompass Direct data team. In addition, we offer API data solutions including direct access to
Kompass data via Salesforce
™.
Kompass Digital Marketing Solutions
will help your company attract new business leads. Using Kompass.com, our global online digital directory which attracts more than 7.5m visitors every month, we offer a range of services to help improve your SEO, increase relevant customer traffic and build global awareness of your company profile and brand.
Kompass Business Sales Intelligence
helps you connect with business leaders using ByPath, our next generation B2B data solution, which provides smart analysis of Big Data gathered from the web and social networks. By delivering relevant insight and alerts it gives sales teams both meaningful and critical information to help grow their business.
Kompass Public Tenders
is our online global tenders service which is used by companies looking to identify new business opportunities through access to public and private sector bids. With over 50,000 UK and international tenders every day, they are generated across more than 190 countries.
Kompass - products, services, knowledge and expertise
Marketing data
Exporter information
Export opportunitie
Promotion
Sales Leads
Prospects
B2B Data
PPC
European B2B Data
Global B2B Data
Online advertising
Email Marketing
Data cleansing
Prospect lists
Big Data
Social Selling
B2B Contact Information
Business Leads
Digital Marketing
CRM Data Integration
Sales Intelligence
B2B Directory
SEO
Marketing Lists
Export Information
IP Website Tracking
Bespoke List Service
Easybusiness
Company catalogues - Kompass UK Ltd
Company's Videos - Kompass UK Ltd
General Information - Kompass UK Ltd
Certifications
| | |
| --- | --- |
| | Members of the DMA |
Export area
Asia-Pacific, Central Asia, Middle East, Africa, Central/East Europe, West. Europe, North America, Central America, South America
Brands - Kompass UK Ltd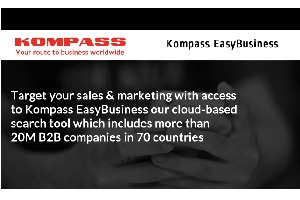 EasyBusiness
Global cloud-based B2B sales & marketing database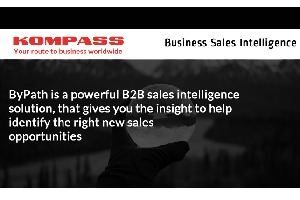 ByPath
B2B sales intelligence solution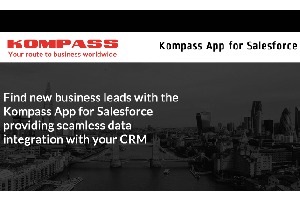 App for Salesforce
Business data app for Salesforce
Stephen Hoad
Managing Director
Location - Kompass UK Ltd
Activities - Kompass UK Ltd
Producer
Distributor
Service provider
Main activities within the Kompass classification
Other classifications (for some countries)
SIC (GB 2007) : Book publishing (58110)
NACE Rev.2 (EU 2008) : Book publishing (5811)
ISIC 4 (WORLD) : Book publishing (5811)
Secondary activities within the Kompass classification