Contact - Kompass North America
100 Overlook Center
2nd Floor
Princeton NJ 08540
United States
Ask for Info - Kompass North America
Legal information - Kompass North America
| | |
| --- | --- |
| Nature | Headquarters |
| Year established | 1998 |
| Describe your Company and attract Business opportunities (NAI12) | Directory and Mailing List Publishers (511140) |
| No employees | 15 Employees |
| Kompass ID? | US449540 |
| Kompass member for | + 7 years |
| Membership | Booster International |
Presentation - Kompass North America
Kompass is a world-leading
B2B information provider
. With a presence in over 60 countries across the globe, Kompass is an internationally-recognized company that's dedicated to helping you master your market, sell your products or services, and market your brand.
Since Kompass has been around for 70 years, you know we've been a trusted authority in
B2B information
for many long years. We've seen technologies rise and fall, and we've outlasted major changes in the industry.
If there's one
B2B information company
you can depend on, it's Kompass.
How Can We Help Your Marketing?
It's free to put your company records on the Kompass database. The Kompass database includes businesses from 69 countries, and the full database receives as many as 26 million profile views every month.
Register
Here
, with your free listing, you get a piece of that traffic.
Valued customers with an interest in boosting their search engine performance (both on the Kompass database and on Google) may be interested in our
Booster program
.
How Can We Help Your Sales?
The Kompass database is full of potential leads from across the globe. Whether you're a local business or a multi-national corporation, the Kompass database has what you and your sales team are looking for.
With our
EasyBusiness
and
EasyList
services, you can compile prospect lists and be ready to close those sales in no time.
How Can We Help You Study Your Market?
Above and beyond all those other benefits, the Kompass database itself is a goldmine of information.
Do you want to learn more about your biggest competitor? See if they've got a listing in the directory.
Do you want to get an early warning about major shifts in your industry, or your clients' industry? Our directory is a great place to start.
Do you want to identify potential partners?
Check out
the database.
Whatever your goals, information is key. With the Kompass database, you have access to the information you need.
Kompass can help your business to:
Promote to the global marketplace
Analyze Global market sectors for potential opportunities
Identify suppliers of products & services
Identify potential clients, agents and distributors
Identify potential partners
Identify and research competitors
If you have any comments or questions, feel free to contact us
here
on the site.
Company catalogues - Kompass North America

Kompass Booster user guide (English)
29 pages

Kompass transportation sector infographics (English)
1 pages
General Information - Kompass North America
Brands - Kompass North America
I WANT TO GET MORE DETAILS ABOUT THE OFFER Kompass North America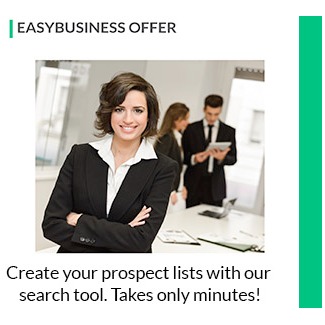 Special Offer EasyBusiness-database
From 27-May-2021 to 31-Dec-2021
Special Offer for US & Canadian SMBs
Special Offer- International data
for US & Canadian SMBs
Save 15% on a 3-month subscription to Easybusiness.
News - Kompass North America
New product
Over 14 million companies in USA available on EasyBusiness by Kompass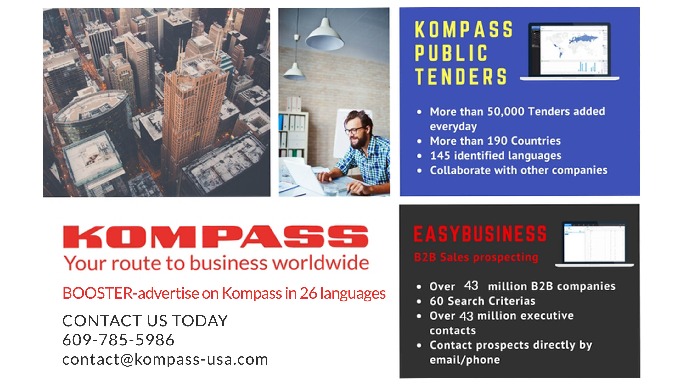 Date: 22 February 2021 22:29
End: 01 January 2022 22:29
Early in 2018, Kompass North America announced that we had 4.2 million USA-based profiles on our database.
We've done some serious growing since that announcement.
How much? As of January 2021, Kompass North America has a total of 14 million fresh American companies entered into the database – 14,373,037 to be exact. Including 14 million executive names and more than 4.1 executive emails. And if you're interested in foreign markets and partnerships as well, you're in luck—the database has a total over 43.5 million fresh profiles worldwide.
If you and your organization already subscribe to EasyBusiness, you already know what great news this is. But let's get some background information just in case you're not already familiar with what EasyBusiness can do for you.
We also have over 1 million Canadian companies within our database.
What is EasyBusiness?
EasyBusiness
is a powerful marketing and segmentation tool that the whole company can use. At its heart is the database with over 16 million business profiles in the United States alone. But the real power of the EasyBusiness tool comes with its crowning feature: the search engine.
The EasyBusiness search engine gives you and your team more than 60 criteria to search with. These include simple things like industry, location, and company size. But it also includes tougher criteria, such as turnover rates.
If your company is going global, EasyBusiness from Kompass North America has a worldwide reach, with more than 19 million business profiles across the world. Access to EasyBusiness is available 24 hours a day with your subscription, so you and your team can access this vital information whenever you need it.
How Can My Business Use EasyBusiness?
As you can imagine, EasyBusiness is a great tool for marketing and sales. Get the sales team on EasyBusiness and they'll finish prospecting in no time. Let marketing try it out and they'll be able to figure out how to segment the market before you know it. Just enter your criteria into the search engine and you'll be able to produce prospect lists almost as fast as you can think of segments.
But that's not all your team can use EasyBusiness for. Human Resources can find detailed legal information. Your financial team can look up detailed information on competitors, prospects, and partners.
Since the pandemic, Kompass EasyBusiness also became a very valuable tool for manufacturers to search for new local suppliers. Ask our Kompass experts about our special industry analysis available.
Whatever data you need, you'll be able to find it on EasyBusiness.
And in case you're thinking EasyBusiness is only for huge businesses with thousands of employees, think again! EasyBusiness has plenty to offer small and medium-sized businesses. Even individual subscribers (like professors and students) can get immense research value from EasyBusiness.
Check out our special offers for SMB's:
Need high quality DATA? Check out our special offer on
EasyBusiness
subscription service.
Want to increase your VISIBILITY? Take a peek at our special offer for
Booster Program
!
Looking for GOVERNMENT CONTRACTS? Our
Public Tenders
platform puts proposals from all over the world at your fingertips.
If you're interested in learning more about
our current offers
or about our partnership program,
contact us today
!
Take care and Stay Safe!
News from Kompass North America
Three Ways to Keep Your Employees Healthy and Safe during the Re-Opening Stages of the COVID-19 Pandemic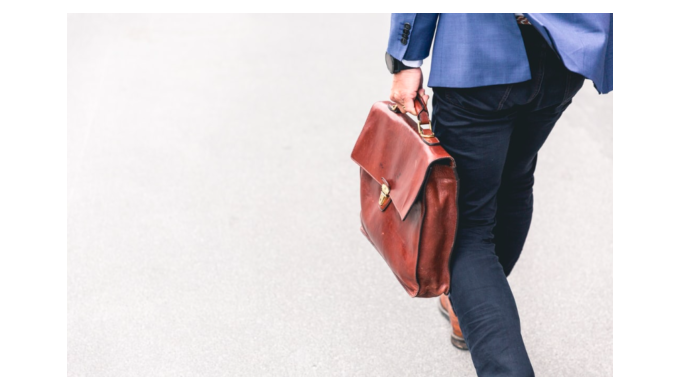 Date: 04 November 2020 05:00
End: 01 January 2021 04:59
With states like New Jersey and Pennsylvania lifting their "stay home orders" and entering "yellow" phases of reopening, business owner's need to start thinking about smart ways to reopen their offices. You need to make sure your employees feel safe and valued in their place of work. While there is no proven formula to make reopening 100 percent flawless, there are steps you can take to make it a smoother transition back. Here are
three ways to keep your employees healthy and safe during the re-opening stages.
Three Ways to Keep Your Employees Healthy and Safe during the Re-Opening Stages of the COVID-19 Pandemic:
Allow employees to keep working from home – We know this one may seem odd but if an employee is able to keep doing their job from home, let them! Working from home helps team members lower their risk of contracting or spreading COVID-19. While the yellow stage may allow some businesses to open, a lot of folks still have children at home without childcare or old family members at home who are at higher risk to COVID- 19. This will show your employees you understand that although things are reopening, we are not 100 percent in the clear.
Extra sanitization for the employees that can not keep working from home – Try to organize work station to be six feet apart, make sure bathrooms and common areas are cleaned daily, make sure each work station has hand sanitizer, encouraging employees to wear cloth face coverings in the workplace and most importantly, make sure your employees know it is okay to stay home if they are not feeling well. Have that open line of communication that makes employees feel comfortable saying, " for my safety and yours, it may be better for me to stay home today."
Listen to Feedback – There is so much going on in the world right now so be sure you are listening to your employees and how they are feeling. Setting up quick 15 minute debrief sessions once a week may be a great way to get a feel for how your employees are doing!
We hope you found these helpful. Let us know some of your tips and tricks for reopening your offices!
Kompass North America has recently put together two special EasyBusiness analysis' reports:
Supply Chain Analysis
– to ensure your company is able to continue your supply chain and
Sector Analysis
– to see how COVID- 19 has impacted different business searches all over the world. For the full presentations and to learn how Kompass can help your business,
contact us
.
Location - Kompass North America
Opening hours - Kompass North America
Key figures - Kompass North America
Activities - Kompass North America
Producer
Distributor
Service provider
Main activities within the Kompass classification
Other classifications (for some countries)
NAICS (US 2012) : Directory and Mailing List Publishers (511140)
SIC (US 1987) : Miscellaneous Publishing (2741)
NAICS (US 2012) : International Affairs (928120)
NAICS (US 2012) : Commercial Printing (except Screen and Books) (323111)
NAICS (US 2012) : Business to Business Electronic Markets (425110)
Secondary activities within the Kompass classification