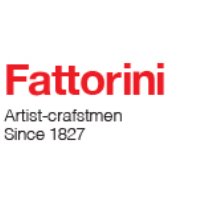 Fattorini - Insignia, Medals, Trophies, Swords
Thomas Fattorini Ltd
Contact - Fattorini - Insignia, Medals, Trophies, Swords
Regent Street Works
Birmingham West Midlands B1 3HQ
United Kingdom
Latest products added Fattorini - Insignia, Medals, Trophies, Swords
Additional information
Legal information - Fattorini - Insignia, Medals, Trophies, Swords
| | |
| --- | --- |
| Nature | Headquarters - Factory - Sales Office |
| Year established | 1916 |
| Legal form | Private Limited |
| Activity (SIC07) | Manufacture of other wearing apparel and accessories (14190) |
| Registration no | 00153351 |
| VAT no | GB 343 4128 78 |
| No employees | 100-249 Employees |
Presentation - Fattorini - Insignia, Medals, Trophies, Swords
Medallists, Trophymakers, Silversmiths, makers of Awards and National Honours, Corporate Jewellery, Uniform Accessories & Industrial Product badges - made to order for you.
Thomas Fattorini Ltd, established in 1827 have two dedicated factories in the UK. The Birmingham factory specialises in metal goods and the factory in Manchester specialises in plastic name badges & injection moulding. There is also a Sales Office in London serving the city and the surrounding region. The company is accredited to ISO9001 from design to manufacture. Our products include:
ORDERS, DECORATIONS and NATIONAL AWARDS
National awards & honours such as CBE, OBE, MBE, campaign medals, orders & decorations, National Honours, badge of state, ribbon bars, buttons, sashes, epaulettes.
GOLD & SILVERWARE
Chalice, salvers, communion sets, long-service awards & recognition, regimental silver, mess silver, table centre pieces, silver salvers, statuettes & statues, models, sculptures, cups, objets d'art.
CIVIC INSIGNIA & REGALIA
Civic jewels such as regalia, maces, freedom scrolls, civic insignia, maces, wands, ceremonial rods & staffs, past president pendant, Mayoral chain, civic chains, badge of office, past-mayor pendant, officers, councillor badge, civic medallion - for towns, cities, parishes, boroughs, and business association.
UNIFORM ACCESSORIES
Namebadges, belts, belt buckles, cufflinks, dress studs, long service awards, rings, earrings, tie pins, tie-slides, tie clips, buttons, cap badges, epaulettes membership, college rings, flag badges, leather wallets. For airlines, railways, hotels, sports, leisure centres, hospitals, retail stores, bank, school, university, clubs, and governments.
MEDALLISTS
Medal makers of Art and commemorative medals, medallions, Medal on Ribbons, Military Medals, Portrait Medals. Also tokens, sports locker & trolley tokens, coins.
SWORD MAKERS
Ceremonial swords for presentation, graduation, of standard pattern armed forces parade swords including Infantry, Royal Naval Officers', Airforce (RAF), and bespoke swords. Also Knives and letter openers, sword knots.
TROPHY MAKERS
Designers & makers of bespoke trophies : acrylic awards, glass trophy, pewter, steel, brass, plastic, wood, precious metal, boxing belts, etched plaques and signs, wooden shields, presentation plaques, sports awards, TV shows - made to order.
INDUSTRIAL PRODUCT BADGES and IDENTIFICATION
Industrial product badges to include cooker badges, furniture badges, car, automotive and other vehicle badges, beer pump clips, tread plates, product enhancement and prototypes. Point of sale.
We export to Europe, Asia, Middle East, Africa, Australasia and North America and Canada
Key phrases:
Acrylic Awards
Key phrases:
Automotive Badges
Key phrases:
Boxing Belts
Key phrases:
Ceremonial Maces
Key phrases:
Ceremonial Swords
Key phrases:
Civic Caskets
Key phrases:
Civic Insignia
Key phrases:
Civic Silverware
Key phrases:
Engine Badges
Key phrases:
Fender badges
Key phrases:
Glass and Crystal Awards
Key phrases:
Gold & Silversmiths
Key phrases:
Heraldic Shields
Key phrases:
Illumiated Scrolls
Key phrases:
Insignia Makers
Key phrases:
Knives and Letter Openers
Key phrases:
Metal Plaques
Key phrases:
Military Medals
Key phrases:
Miniature Swords
Key phrases:
Museum Replicas
Key phrases:
Objets d'Art
Key phrases:
Orders & Decorations
Key phrases:
Premiumisation
Key phrases:
Product Badgemakers
Key phrases:
Product Badges
Key phrases:
Pump Clips & Point of Sale
Key phrases:
Silversmithing
Key phrases:
Silverware
Key phrases:
Special Comissions
Key phrases:
Special Trophies
Key phrases:
Sports Belts
Key phrases:
Sports Medals
Key phrases:
Sports Trophies
Key phrases:
Swordmakers
Key phrases:
Swords
Key phrases:
Trophymakers
Key phrases:
Vehicle Badges
Key phrases:
Vitreous Enamelling
Key phrases:
Wooden Shields
Key phrases:
Wrestling Belts
General Information - Fattorini - Insignia, Medals, Trophies, Swords
Export area
Central Asia, Middle East, Africa, Central/East Europe, West. Europe, North America, Central America, South America
Mr G.T. Fattorini
Managing Director
Mr T.R. Fattorini
Sales Director
Participation - Fattorini - Insignia, Medals, Trophies, Swords
Location - Fattorini - Insignia, Medals, Trophies, Swords
Opening hours - Fattorini - Insignia, Medals, Trophies, Swords
Key figures - Fattorini - Insignia, Medals, Trophies, Swords
Turnover
Operating income
Activities - Fattorini - Insignia, Medals, Trophies, Swords
Producer
Distributor
Service provider
Main activities within the Kompass classification
Other classifications (for some countries)
SIC (GB 2007) : Manufacture of other wearing apparel and accessories (14190)
NACE Rev.2 (EU 2008) : Manufacture of other wearing apparel and accessories (1419)
ISIC 4 (WORLD) : Manufacture of wearing apparel, except fur apparel (1410)
Secondary activities within the Kompass classification