Contact - Elesa (UK) Ltd
26 Moorlands Estate
Metheringham
Lincoln LN4 3HX
United Kingdom
Ask for Info - Elesa (UK) Ltd
Legal information - Elesa (UK) Ltd
| | |
| --- | --- |
| Nature | Secondary establishment : Branch |
| Year established | 1990 |
| Legal form | Private Limited |
| Activity | |
| Registration no | 00577223 |
| No employees | 10-19 Employees |
| Kompass ID? | GB80044894 |
| Kompass member for | + 7 years |
| Membership | Booster International |
Presentation - Elesa (UK) Ltd
Elesa (UK) Ltd
is a branch office of the Elesa Spa group, international manufacturer of plastic and metal standard machine parts for the mechanical engineering industry for over 75 years. Elesa products express a quality of design and ergonomic research with recognition of its brands as guarantees of quality and reliability. Continuous attention to clients' needs and a rapid service have made Elesa a reference point for designers and builders. More than 45,000 product codes, 180 patents and 42 international design awards produced with systems certified to ISO 9001 and ISO1401 are supported by localised stock and technical support.
Elesa Standards cover industrial components including, handwheels, handles, levers, knobs, gears, spring and indexing plungers, levelling feet, locks and latches and hydraulic tank accessories in engineering grade plastics, aluminium, steel and stainless steel. Also a range of light to heavy duty industrial castors, vibration damping elements, conveyor components, rod ends, fork joints and magnets.
Industrial machinery and equipment are well served with the Elesa anti-vibration mounts, ball lock pins, ball transfer units, filler breathers, grip knobs, latch clamps and metal hinges, in addition to oil level indicators, plastic hinges, pneumatic clamps, stainless steel hinges, toggle clamps, tubular handles and wing knobs.
More Information on our Products
Handwheels & Crank Handles
Clamping Knobs
Clamping Levers
Lift & Pull Handles
Revolving Handles
Control Knobs
Position Indicators
Indexing Plungers
Spring Plungers
Levelling Feet
Hinges
Locks & Latches
Filler Breather Caps
Column Level Gauges
Castors & Wheels
Tube Connecting Clamps
Adjustable Feet
Adjustable Handles
Anti Vibration Mounts
Ball Lock Pins
Bridge Handles
Cam Action Levers
Cam Latches
Castors & Wheels
Clamping Handles
Column Level Indicators
Detent Hinges
Digital Position Indicators
Drain & Blanking Plugs
Eye Screws
Flush Handles
Fork Joints
Friction Hinges
Grab Handles
Guide Rails
Hook Clamps
Indexing Handles
Indexing Levers
Levelling feet
Lift Off Hinges
Lobe Knobs
Machine Mounts
Magnets
Modular Roller Tracks
Oil Level Indicators
Quick Release Pins
Recessed Handles
Rod Ends
Safety Hinges
Stainless Steel Hinges
Toggle Clamps
Tubular clamps
Vibration Dampers
Washers
Wing Knobs
Wing Nuts
Company's Videos - Elesa (UK) Ltd
General Information - Elesa (UK) Ltd
Banks
The Royal Bank of Scotland
Export area
Asia-Pacific, Central Asia, Middle East, Africa, Central/East Europe, West. Europe, North America, Central America, South America
Brands - Elesa (UK) Ltd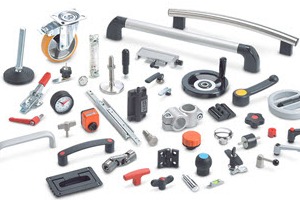 Ganter
standard machine elements (metal)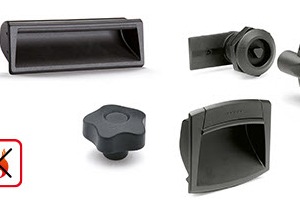 Elesa Self Extinguish
meet the flame proof material requirements of UL-94 V0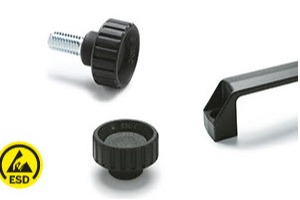 Elesa ESD
in special conductive techopolymer (ESD-C Electrostatic Discharge Conductive)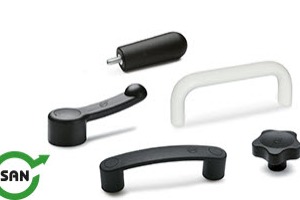 Elesa SAN
with antimicrobial additives preventing the build up of microbes, bacteria, mildew & fungi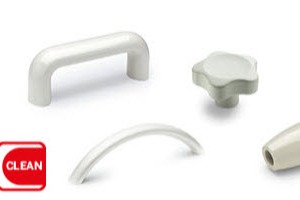 Elesa CLEAN
handles, lobed & knurled knobs for sanitary applications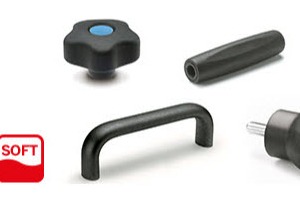 Elesa SOFT
for a safer, more stable grip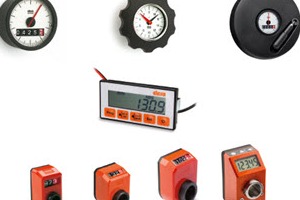 Elesa-Clayton
Analogue/digital, mechanical/electronic indicators for positional setting of lead screws & shafts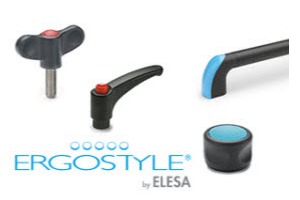 Ergostyle
for aesthetic user-friendliness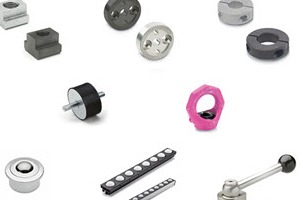 Elesa
standard machine elements (plastic)
Mr R. Griffths
Works & Production Director
Mr N.C.J. Pritchett
Managing Director
Participation - Elesa (UK) Ltd
News - Elesa (UK) Ltd
Participate in an event
Elesa standard machine components at the Advanced Engineering Exhibition, 3-4 Nov at the NEC – stand G10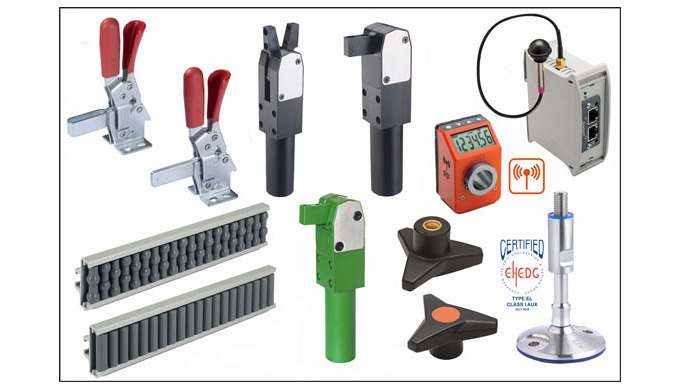 Date: 03 November 2021 09:00
End: 04 November 2021 17:00
Location: NEC, Birmingham
The Elesa team are all looking forward to meeting customers face to face once again at the Advanced Engineering Exhibition, and on stand G10 will be exhibiting their standard machine components – recognised for the excellence of design and production quality. Especially of interest are likely to be the Misati range of pneumatic clamps
, UC-RF position indicator controller, LM Series EHEDG hygienic levelling feet
and
MVAS safety vertical toggle clamps
. Also
GLA roller slide guides for conveyors
and
VB three-arm hand knobs
for clamping/adjustment of equipment. Elesa truly does cover the spectrum of advanced engineering standard machine elements.
Misati high-performance pneumatic clamps
offer exceptional clamping action in work holding or transport of assemblies in manufacturing operations. They are designed for robotic use, being easy to install, robust and well-proven, with fast and reliable operation supported by simple power and control connections that enable rapid installation and setup.
Pneumatic clamps from the range are specialised to match various industrial applications such as punching, welding, fastening/assembly and painting, with modular accessories that are convenient and readily interchangeable. These make fitting and adjustment straightforward, including gripper fingers for sheets or delicate materials, plus irregular shapes, hollow objects/tubes - also visually indicating open/ closed/ready sensors.
The UC-RF control unit from Elesa when combined with DD series RF electronic position indicators offers a PLC connected monitoring system which saves time on frequent changeovers of production formats. They facilitate the correct adjustment of the target-current position of the machine parts and provide a safety system, since if a single
DD52R-E-RF indicator
is not placed in the target position, PLC doesn't allow the beginning of the machine production cycle.
LM.F-HD-SST levelling elements feature highly finished stainless steel parts to prevent dirt from adhering and to facilitate cleaning. They are intended for use in environments where a high degree of hygiene is required and are certified according to EHEDG guidelines The surface beneath the base is protected by seal rings that prevent dirt from entering when the levelling element is mounted onto the floor. Likewise, the adjustable protective sleeve, which covers the threaded part of the stem, is fitted at the top and bottom with a protective seal, to exclude dirt from inside the adjustable sleeve.
Press release
Elesa digital position indicators meet the time challenge for Packaging machine manufacturers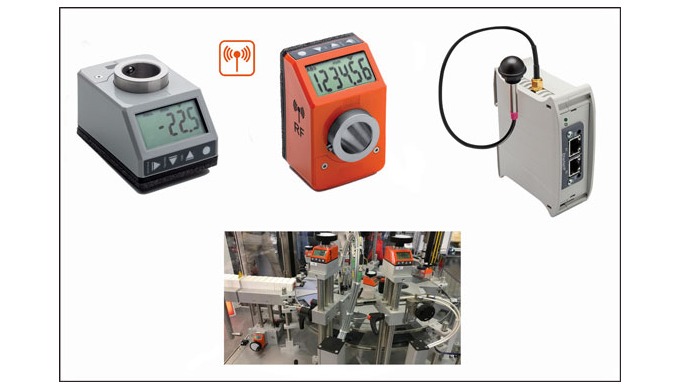 Date: 04 October 2021 23:45
End: 05 October 2031 23:45
Contact details Daniel Hodson, Tel: 01526 322670, email: marketing@elesa.co.uk
Machine change-over time in production is a key issue affecting the profitable operation of packaging lines and can often present a critical bottleneck. As a leading supplier to this industry the challenge for Elesa was to greatly reduce the time taken for machine switchovers on packaging lines installed on site at their end users.
Explained Nigel Pritchett MD at Elesa (UK) "machine downtime for our customers and their end-users can become a major problem while they re-set each roller spindle manually. Fortunately, we have a solution readily available in the form of our unique
wireless digital electronic positioning system
."
"These units are a like-for-like replacement for conventional items and the connected system allows up to 36 position indicators to be re-set all together from a PC link. This saves a great deal of time compared to re-setting each one individually for different packaging configurations."
Elesa's
RF electronic positioning indicators
are unique in the market, enabling wireless communication with a PLC. This results in faster, more efficient machine set-up and associated change over processes. The wireless system enables a quicker and more reliable machine set up - achieved by the use of a linked controller, which displays the initial set-up values on each of the electronic position indicators.
An operator can simply choose the appropriate menu, then quickly re-set each spindle to its correct start position and the machine is "good to go". This saves large amounts of time and greatly reduces the possibility of human error every time the line is changed or recalibrated.
Typical customer feedback has been that "The Elesa wireless electronic positioning system enables faster and more reliable machine set up by the use of a
wireless connected profile controller
, which displays the initial set up values on each of the electronic position indicators."
This simple flexibility enables the Elesa system to be adapted as a mainstream option on all such machines and ensures it may be retrofitted to existing installations when upgrading a complete facility.
Location - Elesa (UK) Ltd
Opening hours - Elesa (UK) Ltd
Key figures - Elesa (UK) Ltd
Activities - Elesa (UK) Ltd
Producer
Distributor
Service provider
Main activities within the Kompass classification
Secondary activities within the Kompass classification