Contact - Elesa (UK) Ltd
26 Moorlands Estate
Metheringham
Lincoln LN4 3HX
United Kingdom
Ask for Info - Elesa (UK) Ltd
Legal information - Elesa (UK) Ltd
| | |
| --- | --- |
| Nature | Secondary establishment : Branch |
| Year established | 1990 |
| Legal form | Private Limited |
| Describe your Company and attract Business opportunities | |
| Registration no | 00577223 |
| No employees | 10-19 Employees |
| Kompass ID? | GB80044894 |
| Kompass member for | + 7 years |
| Membership | Booster International |
Presentation - Elesa (UK) Ltd
Elesa (UK) Ltd
is a branch office of the Elesa Spa group, international manufacturer of plastic and metal standard machine parts for the mechanical engineering industry for over 75 years. Elesa products express a quality of design and ergonomic research with recognition of its brands as guarantees of quality and reliability. Continuous attention to clients' needs and a rapid service have made Elesa a reference point for designers and builders. More than 45,000 product codes, 180 patents and 42 international design awards produced with systems certified to ISO 9001 and ISO1401 are supported by localised stock and technical support.
Elesa Standards cover industrial components including, handwheels, handles, levers, knobs, gears, spring and indexing plungers, levelling feet, locks and latches and hydraulic tank accessories in engineering grade plastics, aluminium, steel and stainless steel. Also a range of light to heavy duty industrial castors, vibration damping elements, conveyor components, rod ends, fork joints and magnets.
Industrial machinery and equipment are well served with the Elesa anti-vibration mounts, ball lock pins, ball transfer units, filler breathers, grip knobs, latch clamps and metal hinges, in addition to oil level indicators, plastic hinges, pneumatic clamps, stainless steel hinges, toggle clamps, tubular handles and wing knobs.
More Information on our Products
Handwheels & Crank Handles
Clamping Knobs
Clamping Levers
Lift & Pull Handles
Revolving Handles
Control Knobs
Position Indicators
Indexing Plungers
Spring Plungers
Levelling Feet
Hinges
Locks & Latches
Filler Breather Caps
Column Level Gauges
Castors & Wheels
Tube Connecting Clamps
Adjustable Feet
Adjustable Handles
Anti Vibration Mounts
Ball Lock Pins
Bridge Handles
Cam Action Levers
Cam Latches
Castors & Wheels
Clamping Handles
Column Level Indicators
Detent Hinges
Digital Position Indicators
Drain & Blanking Plugs
Eye Screws
Flush Handles
Fork Joints
Friction Hinges
Grab Handles
Guide Rails
Hook Clamps
Indexing Handles
Indexing Levers
Levelling feet
Lift Off Hinges
Lobe Knobs
Machine Mounts
Magnets
Modular Roller Tracks
Oil Level Indicators
Quick Release Pins
Recessed Handles
Rod Ends
Safety Hinges
Stainless Steel Hinges
Toggle Clamps
Tubular clamps
Vibration Dampers
Washers
Wing Knobs
Wing Nuts
Company's Videos - Elesa (UK) Ltd
General Information - Elesa (UK) Ltd
Banks
The Royal Bank of Scotland
Export area
Asia-Pacific, Central Asia, Middle East, Africa, Central/East Europe, West. Europe, North America, Central America, South America
Brands - Elesa (UK) Ltd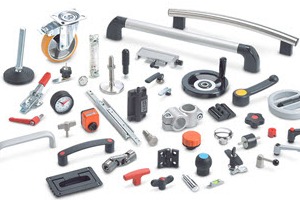 Ganter
standard machine elements (metal)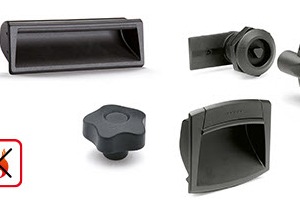 Elesa Self Extinguish
meet the flame proof material requirements of UL-94 V0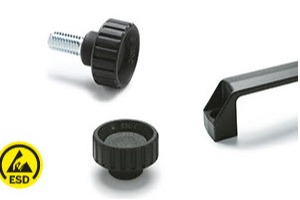 Elesa ESD
in special conductive techopolymer (ESD-C Electrostatic Discharge Conductive)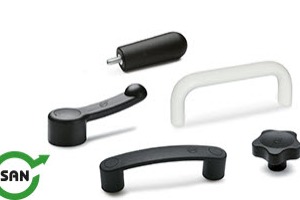 Elesa SAN
with antimicrobial additives preventing the build up of microbes, bacteria, mildew & fungi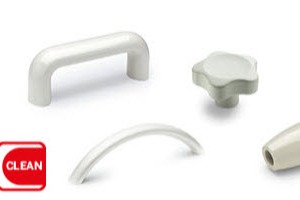 Elesa CLEAN
handles, lobed & knurled knobs for sanitary applications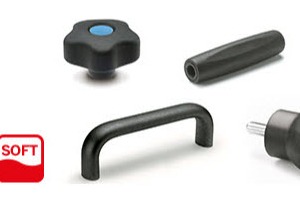 Elesa SOFT
for a safer, more stable grip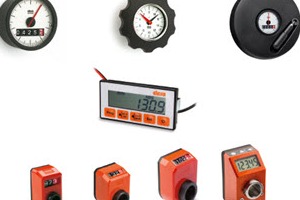 Elesa-Clayton
Analogue/digital, mechanical/electronic indicators for positional setting of lead screws & shafts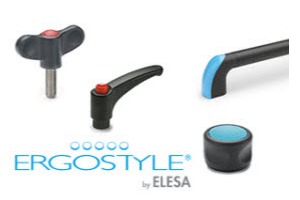 Ergostyle
for aesthetic user-friendliness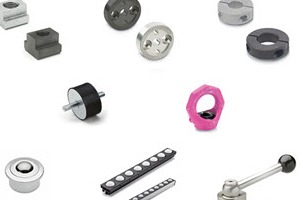 Elesa
standard machine elements (plastic)
Mr R. Griffths
Works & Production Director
Mr N.C.J. Pritchett
Managing Director
Participation - Elesa (UK) Ltd
News - Elesa (UK) Ltd
New product
New toggle clamps with extended lever from Elesa solve the reach problem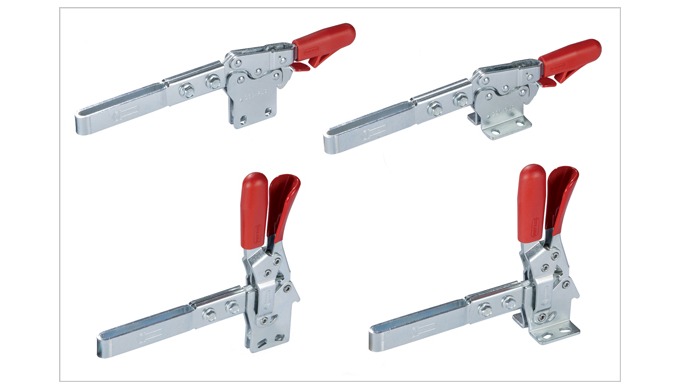 Date: 23 July 2021 10:00
End: 23 July 2031 10:00
New
extended lever toggle clamps from Elesa
provide a longer hold bar to hold items in position for working or fixing, allowing them to be secured across larger components. This extended lever allows the clamp arm to reach components in the middle of an assembly while giving clearance to view a template or positioning indices so that operators can work more easily around the clamped component.
These new clamps enable an even hold for welding on control jigs, moulds, templates and work pieces supporting across the whole item which saves time in production and enhances safety, providing a quick, temporary and secure location during secondary operations.
Elesa toggle clamps
feature safety release handles in vertical or horizontal configuration for optimum operator convenience to suit the layout of individual work stations. This ensures rapid manual operation which is both fast and accurate, with preset safety (anti-release) lever to prevent accidental opening in the presence of strong vibrations, and to ensure that the operator's fingers cannot be hit by the lever while opening.
Extended lever toggle clamps are available with a flanged (folded) base plate or with a straight (insert) base to suit the orientation required.
New product
New Ball Transfer Units, Roller Tracks and Conveyor Balls from Elesa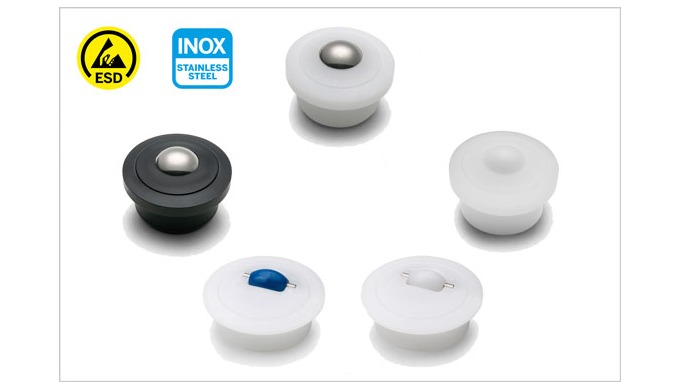 Date: 06 July 2021 12:17
End: 07 July 2031 12:17
Elesa are delighted to announce that they have added three new products to their range of
ball transfer units
(otherwise known as roller tracks or conveyor balls). Their
new UTB units in white acetal-based technopolymer
with white polymer or stainless steel roller balls are joined by ESD conductive units and UTR roller transfer units for especially delicate surfaces such as glass and ceramic.
Ball transfer units greatly aid the movement of flat sheet materials e.g. steel, wood, plastics and similar. They are used for material feed to workstations, movement on transfer lines between workstations or assembly lines, also for moving of components, assemblies and finished packages. They are installed in factories, warehouses, loading areas and receiving stations for onward movement in a simple, quick and easy fashion, generally under gravity or manual feed. Normally they are installed with the ball upwards but can also be used inverted as very low profile castors.
UTB series ball transfer units are particularly suitable for applications on transfer and conveyor lines or end of production lines. They offer smooth linear and rotational movement with maximum cleanliness as they do not require lubrication with oils and greases. The UTB technopolymer ball option lends itself to handling loads with delicate surfaces while the stainless steel ball version is excellent for handling loads with sharp or angular surfaces. Furthermore, since these are corrosion-resistant materials, it is possible to wash them if required.
New
ESD conductive units
feature a special electro-conductive technopolymer body, in black with volume resistivity <10 5 Ω cm, to DIN IEC 93, and surface resistivity <10 5 Ω, to DIN 53482. The main ball is in stainless steel with internal support and transfer balls also in stainless steel. The mix of these materials prevents the accumulation of electrostatic charges so that UTB-SST-ESD ball transfer units are suitable for applications in "ESD PROTECTED AREA" (EPA) areas – especially for assembly of delicate electronic devices or in potentially hazardous environments.
Also new, Elesa
UTR roller transfer units
facilitate both linear and rotary movement with a soft technopolymer roller. This is suitable for handling loads with particularly delicate surfaces such as glass and ceramic, and may also be washed frequently.
Location - Elesa (UK) Ltd
Opening hours - Elesa (UK) Ltd
Key figures - Elesa (UK) Ltd
Activities - Elesa (UK) Ltd
Producer
Distributor
Service provider
Main activities within the Kompass classification
Secondary activities within the Kompass classification