Contact - Elesa (UK) Ltd
26 Moorlands Estate
Metheringham
Lincoln LN4 3HX
United Kingdom
Send a message - Elesa (UK) Ltd
Legal information - Elesa (UK) Ltd
| | |
| --- | --- |
| Nature | Secondary establishment : Branch |
| Year established | 1990 |
| Legal form | Private Limited |
| Describe your Company and attract Business opportunities | |
| Registration no | 00577223 |
| No employees | 10-19 Employees |
| Kompass ID? | GB80044894 |
| Kompass member for | + 7 years |
| Membership | Booster International |
Presentation - Elesa (UK) Ltd
Elesa (UK) Ltd
is a branch office of the Elesa Spa group, international manufacturer of plastic and metal standard machine parts for the mechanical engineering industry for over 75 years. Elesa products express a quality of design and ergonomic research with recognition of its brands as guarantees of quality and reliability. Continuous attention to clients' needs and a rapid service have made Elesa a reference point for designers and builders. More than 45,000 product codes, 180 patents and 42 international design awards produced with systems certified to ISO 9001 and ISO1401 are supported by localised stock and technical support.
Elesa Standards cover industrial components including, handwheels, handles, levers, knobs, gears, spring and indexing plungers, levelling feet, locks and latches and hydraulic tank accessories in engineering grade plastics, aluminium, steel and stainless steel. Also a range of light to heavy duty industrial castors, vibration damping elements, conveyor components, rod ends, fork joints and magnets.
Industrial machinery and equipment are well served with the Elesa anti-vibration mounts, ball lock pins, ball transfer units, filler breathers, grip knobs, latch clamps and metal hinges, in addition to oil level indicators, plastic hinges, pneumatic clamps, stainless steel hinges, toggle clamps, tubular handles and wing knobs.
More Information on our Products
Handwheels & Crank Handles
Clamping Knobs
Clamping Levers
Lift & Pull Handles
Revolving Handles
Control Knobs
Position Indicators
Indexing Plungers
Spring Plungers
Levelling Feet
Hinges
Locks & Latches
Filler Breather Caps
Column Level Gauges
Castors & Wheels
Tube Connecting Clamps
Adjustable Feet
Adjustable Handles
Anti Vibration Mounts
Ball Lock Pins
Bridge Handles
Cam Action Levers
Cam Latches
Castors & Wheels
Clamping Handles
Column Level Indicators
Detent Hinges
Digital Position Indicators
Drain & Blanking Plugs
Eye Screws
Flush Handles
Fork Joints
Friction Hinges
Grab Handles
Guide Rails
Hook Clamps
Indexing Handles
Indexing Levers
Levelling feet
Lift Off Hinges
Lobe Knobs
Machine Mounts
Magnets
Modular Roller Tracks
Oil Level Indicators
Quick Release Pins
Recessed Handles
Rod Ends
Safety Hinges
Stainless Steel Hinges
Toggle Clamps
Tubular clamps
Vibration Dampers
Washers
Wing Knobs
Wing Nuts
Company's Videos - Elesa (UK) Ltd
General Information - Elesa (UK) Ltd
Banks
The Royal Bank of Scotland
Export area
Asia-Pacific, Central Asia, Middle East, Africa, Central/East Europe, West. Europe, North America, Central America, South America
Brands - Elesa (UK) Ltd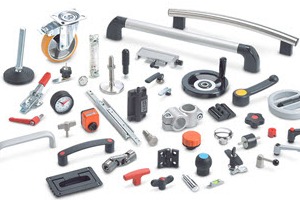 Ganter (Producer, Distributor)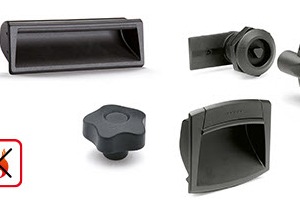 Elesa Self Extinguish (Producer, Distributor)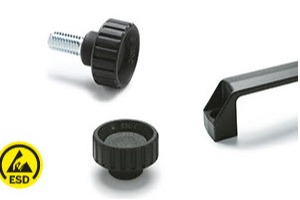 Elesa ESD (Producer, Distributor)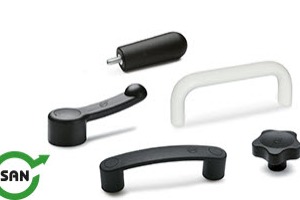 Elesa SAN (Producer, Distributor)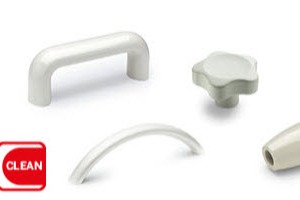 Elesa CLEAN (Producer, Distributor)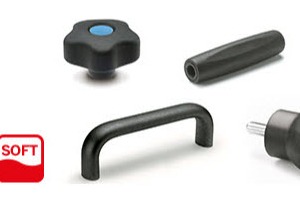 Elesa SOFT (Producer, Distributor)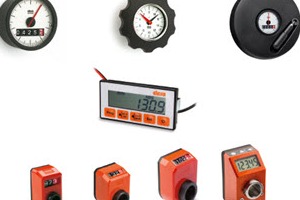 Elesa-Clayton (Producer, Distributor)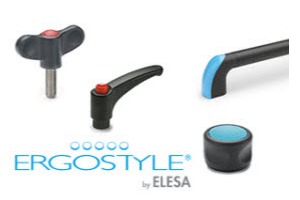 Ergostyle (Producer, Distributor)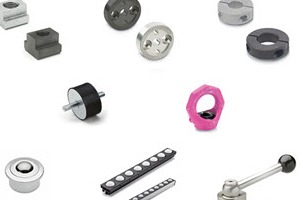 Elesa (Producer, Distributor)
Mr R. Griffths
Works & Production Director
Mr N.C.J. Pritchett
Managing Director
Participation - Elesa (UK) Ltd
News - Elesa (UK) Ltd
Press release
Elesa flexible coolant hoses support many applications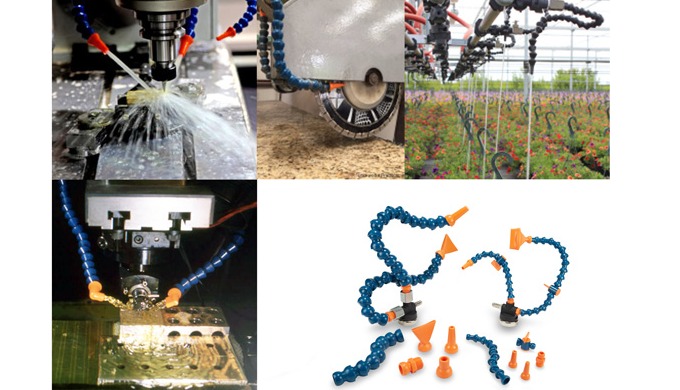 Date: 11 February 2021 11:51
End: 11 February 2031 11:51
Contact details Daniel Hodson, Tel: 01526 322670, marketing@elesa.co.uk
The recently introduced
Elesa FH flexible coolant hoses
are made using snap assembly of individual tube segments to allow universal direction of the lubricating/cooling jet, with maximum flexibility. Even when put to the test under harsh, vibration prone environments, Elesa flexible coolant hoses maintain stability due to their high-quality design. The length of each tube can be adapted to specific applications by adding or removing the appropriate number of elements via the snap fitting feature.
This
Elesa FH system
fits all types of machine tools where fluids need to be directed onto a workpiece for material removal and finishing such as cutting, grinding, broaching, tapping, turning or polishing. Situations where the FH system is suitable for distribution of oils, lubricants, cutting fluids, polishing liquids or cleaning fluids. A typical example would be in surface treatment processes for washing off of chemicals where the modular jets and fan sprays may be installed with a magnetic base and ball valve to allow placement wherever required with independent flow rate adjustment. Quick, simple manual adjustment can then ensure effective liquid delivery and adjustment to suit changes in production.
FH hoses are available in
¼ in
or
½ in
bore sizes with matching components and are easily shortened or extended as each segment clips together to ensure liquids can be easily, quickly and accurately directed exactly where needed. They are suitable for a maximum input pressure of 4 bar.
New product
Elesa launch new ranges of protective caps and plugs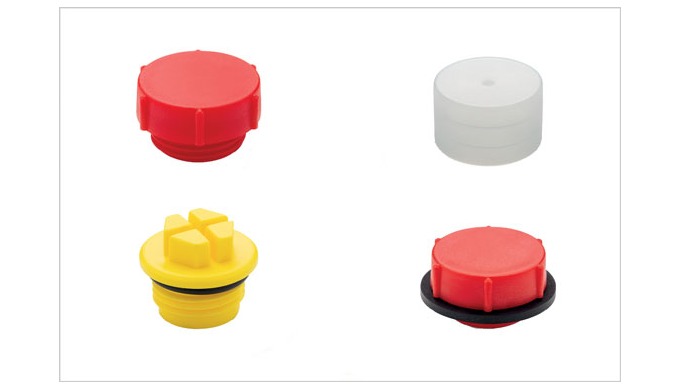 Date: 01 February 2021 13:24
End: 01 February 2031 13:24
New ex-stock Protective Caps and Plugs from Elesa solve protective problems simply – from cushioning pipe ends to preventing loss of fluids or ingress of foreign matter. They provide tough barriers to match industrial environments from clean workstations to messy outdoor situations – protecting people and equipment against damage.
New Elesa caps and plugs are introduced from their NCT, TX and TNX ranges, where the
NCT high grade polyethylene caps
are intended to cover tube ends so preventing damage to the tube, restraining leakage and preventing ingress of foreign material. They serve for personal safety protection against impact, for transit protection or use on frameworks and pipe structures and come in sizes from 4mm to 114.3mm internal dia.
TX series threaded plugs
in red polyethylene are designed with a functional head for installation by hand in production and assembly phases of pneumatic and hydraulic systems to protect against dust and humidity. They are of value in packing and transit of oil containing equipment such as engines, gearboxes, transfer cases, motors and drives to prevent leakage.
TX-G versions
also serve on components that require painting where their NBR gasket offers additional masking area. Sizes of the TX series range from M8 to M26 (G1/8 to G3).
The
TNX series in yellow polyethylene
features an NBR O ring seal and is intended for tool installation by screwdriver, spanner or socket – sizes M8 to M52 (G1/8 to G2).
Location - Elesa (UK) Ltd
Opening hours - Elesa (UK) Ltd
Key figures - Elesa (UK) Ltd
Activities - Elesa (UK) Ltd
Producer
Distributor
Service provider
Main activities within the Kompass classification
Secondary activities within the Kompass classification