Contact - Demag Cranes & Components
Beaumont Road
Banbury Oxfordshire OX16 1QZ
United Kingdom
Latest products added Demag Cranes & Components
Additional information
Legal information - Demag Cranes & Components
| | |
| --- | --- |
| Nature | Secondary establishment : Distribution Center - Sales Office - Warehouse |
| Year established | 1969 |
| Legal form | Private Limited |
| Activity (SIC07) | Manufacture of lifting and handling equipment (28220) |
| Registration no | 00969869 |
| VAT no | GB 100 1097 85 |
| No employees | 20-49 Employees |
Presentation - Demag Cranes & Components
Demag stands for uncompromising quality. As one of the world's leading manufacturers of high-performance and reliable industrial cranes, crane components and drives, we offer our customers a comprehensive range of smart solutions for their material flow and logistics needs.
Our name is synonymous with maximum safety, reliability and innovation. Based on our brand promise "Committed to performance", we provide our customers with smooth processes, maximum efficiency and best results.
And we have been doing so since 1819.
To achieve this, we utilise our comprehensive portfolio of custom solutions, high-quality products and broad spectrum of consulting and services. Our products range from high-performance standard components to complete packages that are tailored to meet specific needs, and our customers include small businesses and global corporations. The result: reliable solutions that boost our customers' productivity, guarantee their safety and demonstrate the high quality of which we are proud, every day.
Our customers appreciate our reliability and expertise – not least since we have been continuously writing technological history for a long time. It all began in 1819 with the establishment of Mechanische Werkstätte Harkort & Co. in Wetter an der Ruhr, Germany. Since then we have continued to grow and develop and have been pioneers in the industry for decades.
More Information on our Products
Cranes & Hoists
Lifting and Handling Equipment
Crane Spares Services
Workstation Lifting Systems
Overhead Cranes
Hazardous Environment Cranes and Hoists
Rope Hoists
Light Lifting Equipment
Industrial Drives
Company catalogues - Demag Cranes & Components
Company's Videos - Demag Cranes & Components
Brands - Demag Cranes & Components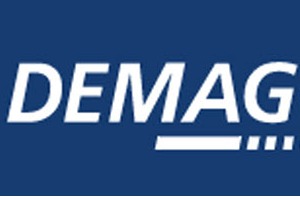 Demag
News - Demag Cranes & Components
New product
Demag KBK Extending Cranes for Optimum Use of Workspace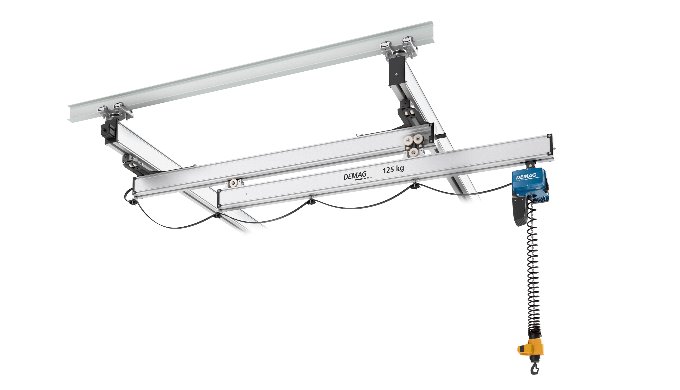 Optimum height utilisation
For lifting and positioning tasks beyond the crane runway
Demag Cranes & Components has added overhung and extending configurations to its KBK Aluline light crane system. Such solutions are designed for applications where there is a requirement to move loads beyond the crane runway span dimension. They enable operators to perform lifting and positioning tasks between pillars and columns or deposit loads in aisles and free areas between assembly zones and lines. Depending on the load capacity, design and profile section size, the range can be extended by up to 3,100 mm. Crane extensions to either side of the track runway span dimension may also be specified, creating an even greater range of crane coverage.
Compared with Demag's conventional KBK crane kit, this configuration has a lower headroom dimension, allowing users to benefit from 120 to 220 mm more hook path, dependent on profile size, for improved utilisation of space below the crane girders. Extending and overhung components may be added easily and quickly to existing KBK installations to improve productivity, without the need to install additional crane runways.
The KBK Aluline system is suitable for a wide range of operational requirements in production, assembly and shipping applications. The system is based on aluminium sections and smooth running trolleys. The result is a system that provides the operator with hands-on support for the movement and positioning of loads, improved ergonomics and reduced physical effort for material handling. It also facilitates an increased lifting path for enhanced operation of gantry mounted hoist units.
The extension length, maximum load capacity up to 500 kg and the crane girder length can be easily selected when designing KBK crane installations. Systems may be designed by Demag's dedicated engineering team or user specified via the company's on-line KBK Designer tool.
Sales Director, Paul Bartlett, stated:
"The KBK lightweight crane system was first introduced over 56 years ago and the fact that it is still used today in a wide variety of workshop and assembly environments is testament to its inherent versatility and efficiency. We have continued to develop the system and this latest innovation will allow us to provide increasingly bespoke material handling solutions for an even broader range of industrial applications."
Other
Handling with ease: Demag Manulift for loads of up to 500 kg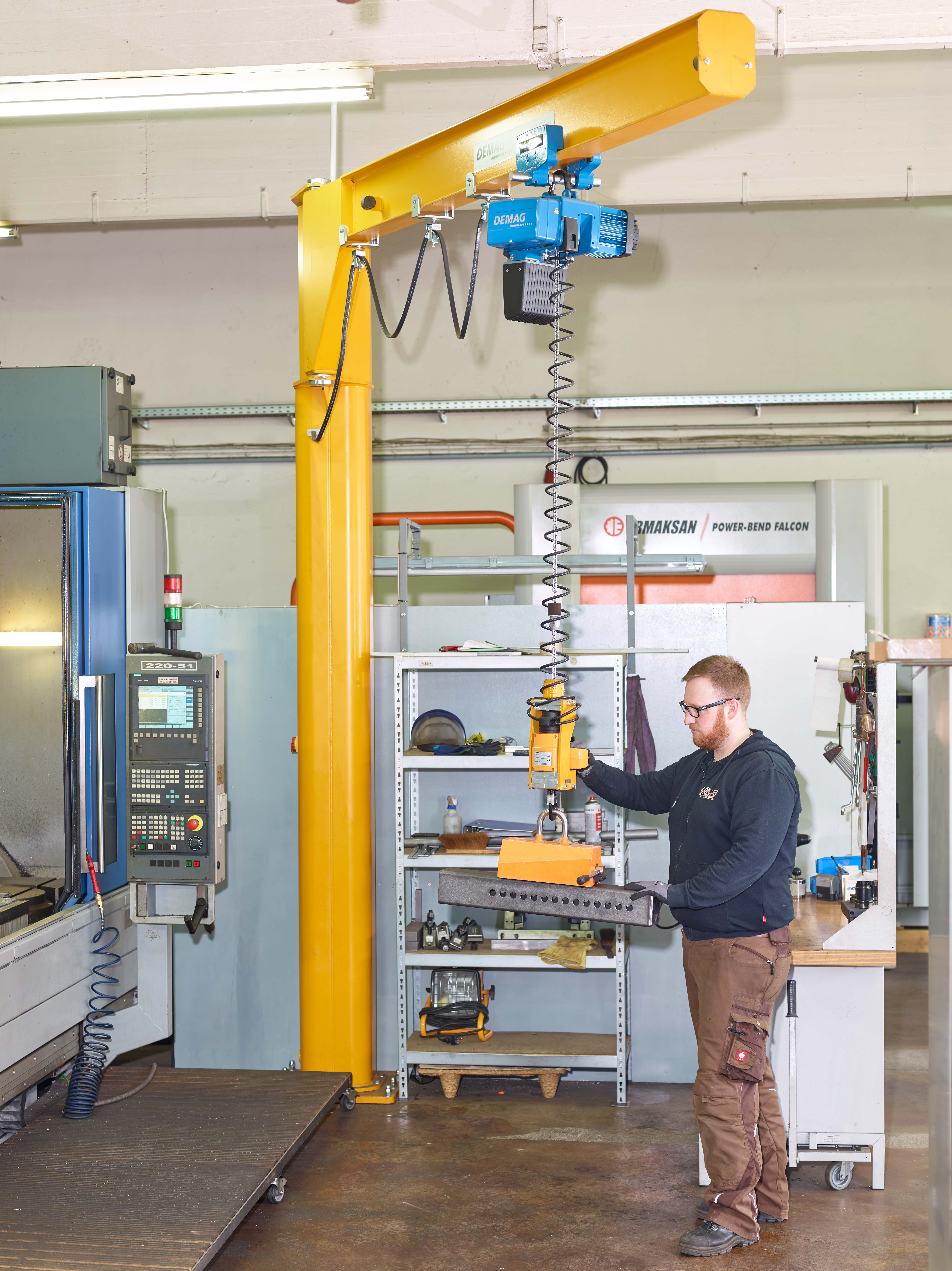 Date: 15 November 2017 00:00
Demag Cranes & Components has added a new model to its DCM-Pro Manulift range to accommodate increased load capacities. The new DC 5 Manulift allows users of Demag chain hoists to handle loads weighing up to 500 kg simply and safely. The DC Manulift, used in conjunction with a Demag DC chain hoist, may be used for simple and safe horizontal and vertical movement of loads with minimum operator effort. Loads may be manoeuvred with the operator using just one hand, leaving the other hand free to operate the crane control system. This provides ergonomic advantages over the use of conventional chain hoists, where the operator often needs to use both hands to lift and position loads. The DC Manulift's control unit is rigidly connected to the load handling attachment, allowing the operator to guide the load with a central handle and, at the same time, lift and lower the load via integrated rocker switches, without having to change the hand position. This arrangement enables loads to be handled quickly, precisely and safely with fluid motions. The DC Manulift has been enhanced by the introduction of material handling innovations, such as the latest D-Grip manual force control unit. It does not need switches or buttons for travel commands, with the load simply following the operator's hand movements via the control system handle.
The DCM-Pro Manulift is well established as an efficient handling device in many production and assembly lines and is employed in numerous sectors of industry worldwide. An extension to the load capacity range is a logical step in its further development, allowing it to be specified for a broader range of heavier duty applications. The DCM-Pro 5 incorporates all of the safety and operational features associated with the established Manulift range. These include a slipping clutch, with a speed-monitoring function, which protects against overloads, as well as the clutch located in front of the brake, preventing loads from dropping abruptly.
Location - Demag Cranes & Components
Opening hours - Demag Cranes & Components
Activities - Demag Cranes & Components
Producer
Distributor
Service provider
Main activities within the Kompass classification
Other classifications (for some countries)
SIC (GB 2007) : Manufacture of lifting and handling equipment (28220)
NACE Rev.2 (EU 2008) : Manufacture of lifting and handling equipment (2822)
ISIC 4 (WORLD) : Manufacture of lifting and handling equipment (2816)
Secondary activities within the Kompass classification