Contact - B.I.O-TECH e. K.
Zeitlarnerstraße 32
94474 Vilshofen
Germany
Send a message - B.I.O-TECH e. K.
Legal information - B.I.O-TECH e. K.
| | |
| --- | --- |
| Nature | Head Office |
| Year established | 1992 |
| Legal form | Personengesellschaft |
| Describe your Company and attract Business opportunities (NAC08) | Manufacture of instruments and appliances for measuring, testing and navigation; watches and clocks (265) |
| Handelsregister | HRA 6433 Passau |
| VAT no | DE127444133 |
| No employees | 10 Employees |
| Kompass ID? | DE619537 |
| Kompass member for | + 7 years |
| Membership | Booster International |
Presentation - B.I.O-TECH e. K.
B.I.O-TECH, founded in 1992, set new yardsticks with their founded knowledge in the field of flow measurement for low flow (mini flow meters, FCH-m) FCH-SE, VZB, VZS... Series used in rugged areas, electronics for monitoring and batching.
We develop and produce industry and market-focused flowmeters which are used in the chemical industry, dosing technology, water purification, jet moulding machines, (up to 160°C) cooling circuit monitoring, laser machines/-plants, lubrication dosing systems, laundry and dish washing machines,
flow meter
to measure the
cooling water flow
rate,
fuel consumption measurement on cars, boats, trucks, tractors, generators and oil burning heating systems.
With our flow meters we can very reliably measure a wide range from 0,005- 1000 L/min. low or high viscous chemically aggressive liquids such as: sulfuric acids, alkalines, salt solutions, calcium chloride, nitric acids, detergent solutions, liquid soaps, sewage slurries, car cleaning and car drying products, waxes, as well as petrochemical products: diesel, fuel, kerosene, paraffin, lubrication oils, hydraulic oil, up to 110 bar / 1595 PSI.
Flow Measurement Instruments B.I.O-TECH
Chemical Flow meter
Oil flow meter
Water flow meter
https://www.btflowmeter.com/en/home.html
Our Product range


https://www.btflowmeter.com/en/flow-meter-products.html
Flowsensors
Digitalflowmeter
Flow Sensors
Turbineflowmeter
Oil flow meter
Water flow meter
watercooling Flow meters
Paddlewheel Flow meters
Frequency to Analog Converters
Flow controllers
Batch Controllers
Filter PP Polypropylene
B.I.O TECH stands for: Top quality, optimal service, large standard delivery program, short delivery times and competent technical consultation.
General Information - B.I.O-TECH e. K.
Brands - B.I.O-TECH e. K.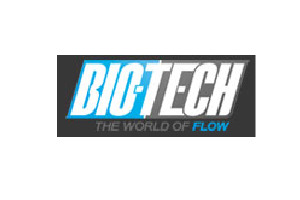 B.I.O-TECH® (Producer)
Herr Walter Tisch
CEO - Chief Executive Officer (Geschäftsführung)
Location - B.I.O-TECH e. K.
Opening hours - B.I.O-TECH e. K.
Activities - B.I.O-TECH e. K.
Producer
Distributor
Service provider
Main activities within the Kompass classification
Other classifications (for some countries)
NACE Rev.2 (EU 2008) : Manufacture of instruments and appliances for measuring, testing and navigation; watches and clocks (265)
WZ (DE 2008) : Herstellung von Mess-, Kontroll-, Navigations- u. ä. Instrumenten und Vorrichtungen (265)
WZ (DE 2008) : Herstellung von Pumpen und Kompressoren a. n. g. (28130)
WZ (DE 2008) : Handelsvermittlung von elektrotechnischen und elektronischen Erzeugnissen a. n. g. (46149)
WZ (DE 2008) : Sonstiger Versand- und Internet-Einzelhandel (47919)
Secondary activities within the Kompass classification