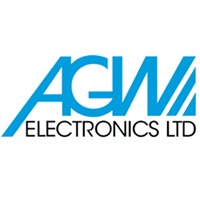 A G W Electronics Ltd
Contact - A G W Electronics Ltd
Adelphi Way
Ireland Industrial Estate Staveley
Chesterfield Derbyshire S43 3LS
United Kingdom
Send a message - A G W Electronics Ltd
Legal information - A G W Electronics Ltd
| | |
| --- | --- |
| Nature | Head Office |
| Year established | 1974 |
| Legal form | Private Limited |
| Describe your Company and attract Business opportunities (SIC07) | Manufacture of other electrical equipment (27900) |
| Registration no | 01194670 |
| VAT no | GB 127 5652 62 |
| No employees | 50-99 Employees |
| Kompass ID? | GB81001054 |
| Kompass member for | + 6 years |
| Membership | Booster International |
Presentation - A G W Electronics Ltd
Manufacturer and designer of quality wound components, PCBs, Transformers, Inductors, Chokes and Electronic Assemblies. Established for over 40 years.
Established in 1975 AGW Electronics Ltd. is now a market leader in the design and manufacture of wound components, transformers, inductors, chokes and electronic assemblies, supplying the power control, industrial drive, military, aerospace, telecommunications, automotive and leisure markets.
As a quality manufacturer the policy of AGW Electronics Ltd. is to provide a complete service, based on technical and commercial knowledge, production efficiency and quality assurance, in order to achieve total customer satisfaction. Our success is based on our belief in the necessity to always meet our customers' requirements in terms of quality, reliability and service. AGW International Ltd. has also been set up to allow our customers to benefit from off-shore manufacturing costs for higher volume products, without losing local service. AGW Electronics Ltd. has been manufacturing transformers, inductors, chokes and electronic assemblies for over 40 years, during which time it has developed the ability to react swiftly to market changes and customer needs. Never has this ability been more necessary than in today's global markets, where developing, marketing and manufacturing products quickly and economically has become essential. Our skilled and experienced development and production engineers, backed by an expert logistics team, enables us to help customers to develop, prototype, and gain the required type approvals for their products, within today's ever diminishing timescales.
Key phrases:
Transformer manufacturer
Key phrases:
Inductor manufacturer
Key phrases:
Coil design and manufacturer
Key phrases:
coil windings
Key phrases:
Ferrite coil Manufacturer
Company catalogues - A G W Electronics Ltd
Company's Videos - A G W Electronics Ltd
General Information - A G W Electronics Ltd
Banks
National Westminster Bank Plc
Export area
Asia-Pacific, Central Asia, Middle East, Africa, Central/East Europe, West. Europe, North America, Central America, South America
Mr Mick Mooney
Research & Development
Ms. Sally Orton
Purchasing
Mr Tony Godwin
Proprietor
Mr Nigel Godwin
Managing Director
Mr Kamlesh Vadhia
Marketing
Mr John Walters
Technical
Mr Paul Gillott
Production
Participation - A G W Electronics Ltd
Location - A G W Electronics Ltd
Opening hours - A G W Electronics Ltd
Key figures - A G W Electronics Ltd
Activities - A G W Electronics Ltd
Producer
Distributor
Service provider
Main activities within the Kompass classification
Other classifications (for some countries)
SIC (GB 2007) : Manufacture of other electrical equipment (27900)
NACE Rev.2 (EU 2008) : Manufacture of other electrical equipment (2790)
ISIC 4 (WORLD) : Manufacture of other electrical equipment (2790)
Secondary activities within the Kompass classification